Rolf Englund IntCom internetional
---
Home - Index - News - Krisen 1992 - EMU - Economics - Cataclysm - Wall Street Bubbles
US Dollar - Subprime - Houseprices
---
Mortgage equity withdrawals (MEWs)
---
The Economic Blue Screen of Death
The engine of our GDP growth has essentially been turned off.
Look at the fall in the numbers for yourself: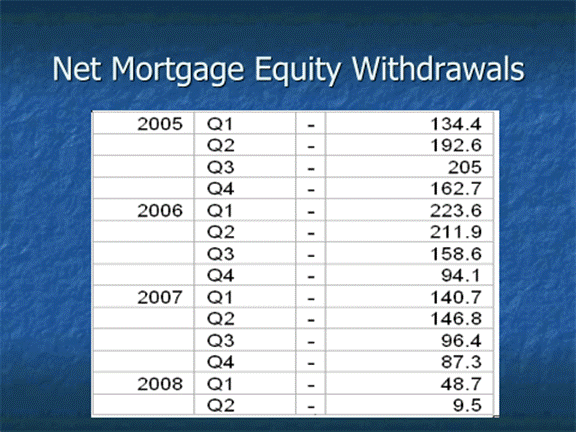 John Mauldin, October 17 2008
Work done by James Kennedy and Alan Greenspan, on the effect of mortgage equity withdrawals (MEWs) on the growth of the US economy shows that without US homeowners using their homes as an ATM, the economy would have been very sluggish indeed, averaging much less than 1% for the six years of the Bush presidency.
Indeed, as a side observation, without home equity withdrawals the economy would have been so bad it would have been almost impossible for Bush to have won a second term.
With almost 20% of American mortgages either now or soon to be "under water," and because lending standards are tightening, it will be a long time before we see a significant upsurge in home equity withdrawals. Whatever growth we see in the next few years will have to come from old-fashioned sources, like real productivity and reality-based lending. Homeowner hallucinations are a thing of the past.
---