Home - News - Index - Krisen 1992 - EMU - Cataclysm - Houseprices
US Dollar - New Era - Stagflation - Wall Street today
Economics - The Great Recession 2007 - Moral Hazard

1792BC
1637 - Tulips
1696
1720 - South Sea
1873
1907
1914
1920-21
1925
1929
1937
1974 Very Big Crash
1982
1987
1989
2000
2007
2008
2016

Bears
Bernanke
Cataclysm
Conundrum
Dollar and
Trade Deficit
Klas Eklund
Rolf Englund
Irving Fisher
Gold
James Grant
Greenspan
Pia Gripenberg
Japan


Keynes










Home









The Nasdaq Composite Index collapsed from its March 2000 high of 5,100 to 1,700 by February 2001 and to a low of about 1,100 by August 2002. (diagram Nasdaq) - Diagram Dow
After recovering to 2,150 at the beginning of this year, it stands at about 1,900--just about 37 percent of its peak level three and a half years ago.
(John Makin, AEI, 22/9 2004)

It is always a mistake to confuse a cycle with a trend.
In the case of corporate earnings, it is worse than a mistake, it is a huge blunder.
The intense cyclicality of corporate earnings is the most important reason why the unadjusted p/e ratio is a worthless indicator of value.
Martin Wolf


Michael Nystrom

Optimists about the stock market





Panic
PrudentBear
Recession
Amity Shlaes
Torsten Sverenius
John Plender
Stephen Roach
Robert J. Shiller

Why people don't understand

Martin Wolf


As with the first Shanghai Surprise, the stark reaction to this week's Chinese events reveals deep lack of confidence in the health of the western corporate sector.
Even if the situation now stabilises — as it did for several months back in 2007 —
the message of concern, in both west and east, is clear.
John Authers, FT 8 January 2016
Yet there were some very high numbers for a group of four companies that have come to be known as the "Fangs" — Facebook, Amazon, Netflix and Google —
and for a slightly wider group that added Microsoft, Salesforce, eBay, Starbucks and Priceline to create the "Nifty Nine".
Both groups gained more than 60 per cent for the year.
John Authers, FT 3 January 2016
---
What you see here is a price chart of the mighty S&P 500 Index going back 20 years.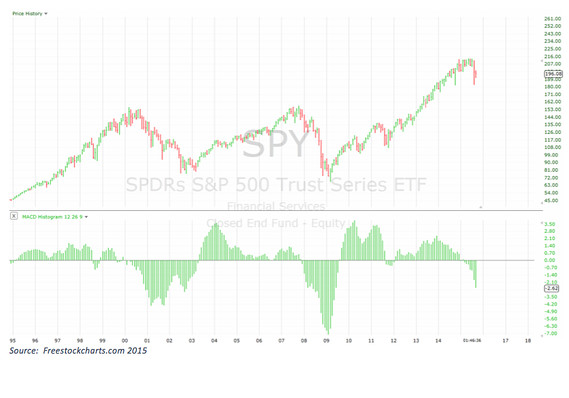 . It is called a moving average convergence/divergence (MACD) histogram, but that's just a detail. The message is the key.
When the bars are pointing above the line, the market is in a bullish trend. When it points below the line,
the bear is in town. Note that there have been two periods in the last 20 years where the indicator fell into bearish territory and stayed there.
These were the dot-com bubble burst and the financial crisis.
---
Alarming news?
The Mebane Faber model based simply on comparing current stock prices to their moving average for the past 10 months.
MarketWatch 3 September 2015

Faber tweeted that the model recommended by his "old market-timing paper ends month 100% in cash & bonds." This has happened less than 7% of the time in the past, he said. "Last time? 2008/2009."

It's alarming news. The Faber model appears in his celebrated research paper A Quantitative Approach to Tactical Asset Allocation. It is based simply on comparing current stock prices to their moving average for the past 10 months.
Back-testing it to 1901 suggests it would have spared you the worst of Wall Street's biggest meltdowns, and that over time it would have made you much more money than buy-and-hold.
---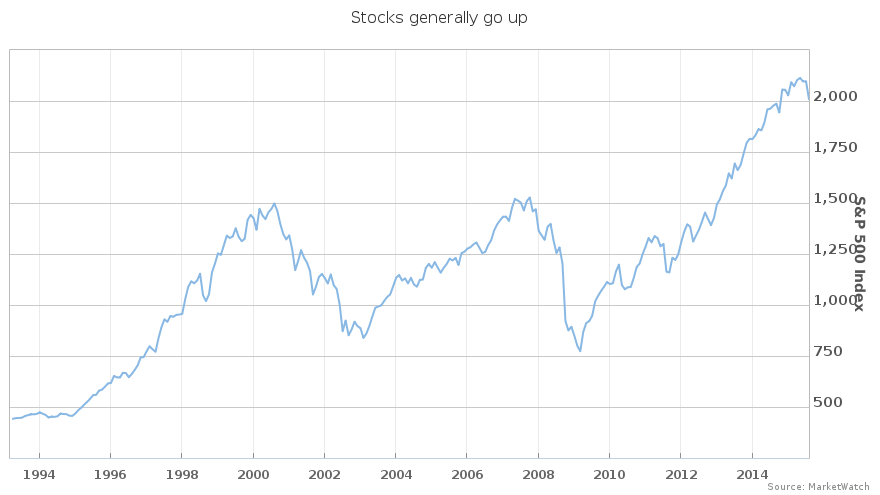 ---
John Hussman
Här är en som varnar för börskraschen mer än jag
Rolf Englund 2015-08-31
---
Unpredictable does not mean unexplainable
Free Lunch is sceptical of anyone's ability to "explain" financial market reversals.
Martin Sandbu, FT 24 August 2015
Securities prices tend to plunge when investors suddenly think they are too high, and vice versa, and Keynes's "animal spirits" are as full an explanation as we may ever have as to why this happens when it does.
But what we can usefully do, and hindsight is no objection to this, is to understand better why a situation was one particularly vulnerable to mood swings.
---
Things got so bad that former Treasury Secretary Larry Summers took to Twitter to
compare the day's events to previous meltdowns and say, "we could be in the early stage of a very serious situation."
Bloomberg 25 August 2015
---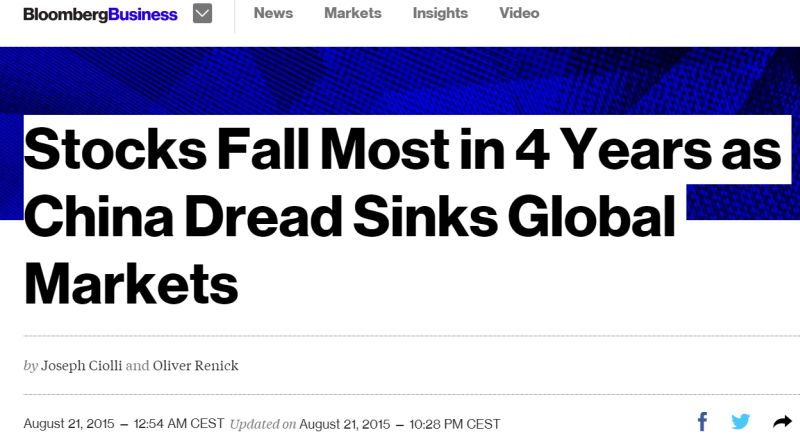 Turbulence in financial markets gathered momentum amid intensifying concern over slowing global growth, pushing the Dow Jones Industrial Average into a correction and giving other stock gauges their worse losses since 2011.
More than $3.3 trillion has been erased from the value of global equities after China's decision to devalue its currency spurred a wave of selling across emerging markets. The worries over slower economic growth come as a strong dollar and plunge in oil prices take a toll on corporate earnings at the same time the Federal Reserve is contemplating the first boost to interest rates since 2006.
---
Goldman Sachs Asked Two of the World's Best-Known Economists If U.S. Stocks Are in a Bubble
It's Shiller vs. Siegel in the battle over equity market valuations
Bloomberg 1 June 2015
---
A stock market bubble exists when the value of stocks
has more impact on the economy than the economy has on the value of stocks.
John Makin, American Enterprise Institute, 2000-11-09
---
Stocks are overpriced, overleveraged, headed for trouble
Office of Financial Research: high valuations and high debt levels pose risks
MarketWatch 25 March 2015
---
Are we in a bull market, or are we still in a secular bear market?
It looks like a duck, quacks like a duck, but it's a secular bear
John Authers, FT December 5, 2014
If this is really nothing more than a cyclical bull market, then the p/e on the market must fall below 10 before the next secular bull market can start.
This happens either through an increase in earnings (of 160 per cent or so)
or a fall in price (of more than 60 per cent),
or more likely a drawn-out combination of the two.
---
It took some 14 years, but we're back to the real highs before the bubble pop This slow-and-steady crawl has given us
a return, finally, to the levels the S&P was at, inflation adjusted, at the tip-top of the dot-com bubble.
MarketWatch 21 November 2014
---
Party Now, Apocalypse Later
Valuations are going to revert to the mean. They always do.
And when they do, they'll overshoot in the process. The business cycle still exists.
Wolf Richter, November 19, 2014
The great unwind will happen in an environment when nearly everything is overvalued.
But those who have dared to stamp a near-term date on that event have gotten hammered by reality.
Junk bonds are enjoying the most extraordinary bubble ever.
Their justification: junk-bond default rates hover near historic lows of about 2%.
Sure. As long as cheap new money is available to service or pay off old debt, defaults are rare.
---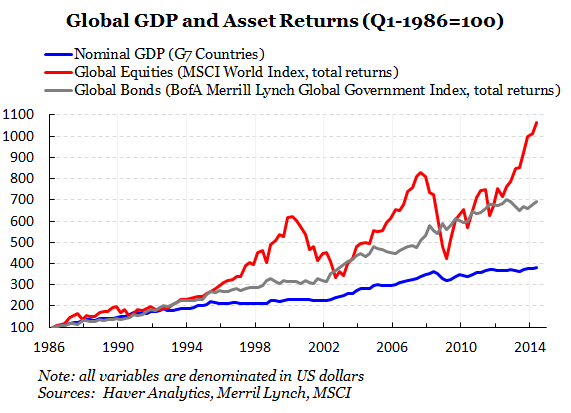 Gavyn Davies, The very long run equity bull market and
Lawrence Summers and Paul Krugman on secular stagnation
Gavyn Davies, FT blog, Nov 09 2014
---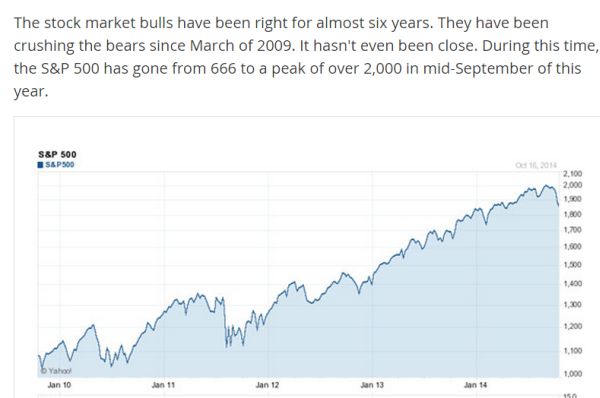 ---
Three days ago Mr Debelle – a top official at Australia's central bank – predicted that markets were heading for wild volatility, since investors were naive about structural risks.
A "sizeable" number of them, he observed, probably presumed that they could exit their positions before any sell-off.
"History tells us that this is generally not a successful strategy," he warned.
"The exits tend to get jammed unexpectedly and rapidly."
Gillian Tett, FT October 16, 2014
We are not talking about rationality here but human nature. They are not one and the same thing. Adam Smith's invisible hand is actually attached to human forearms, and humans are not only momentum investors, rather than value investors, but also inherently both greedy and suffering from hubris about their own smarts.

It's sometimes called a bigger fool game, with each individual fool thinking he is slightly less foolish than all the other fools.
Paul McCulley, January 2008
---
Och det blev afton den 15 oktober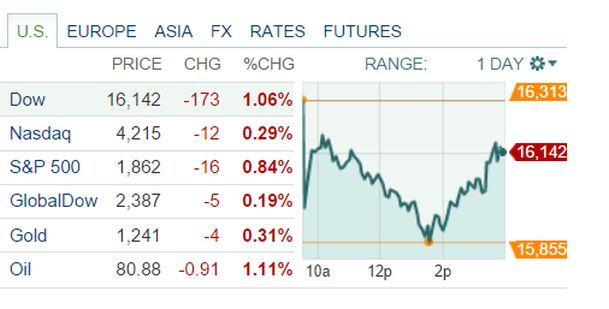 Stocks might be off their peak for the year, but there are no fundamental problems
MarketWatch Published: Oct 15, 2014 8:48 a.m. ET
---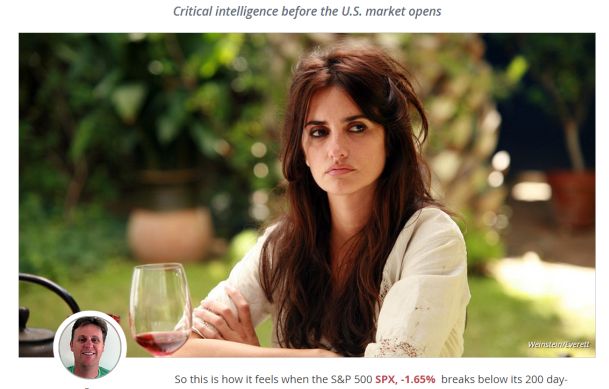 Critical intelligence before the U.S. market opens
MarketWatch Oct 14, 2014
"The complexity part is that the stock market does show momentum. Changes in the market are not normally distributed.
Good times tend to lead to good times. Bad times lead to more bad times.

The hard part, of course, is spotting when the trends change."
---
A good day for a permabear
Rolf Englund 14 October 2014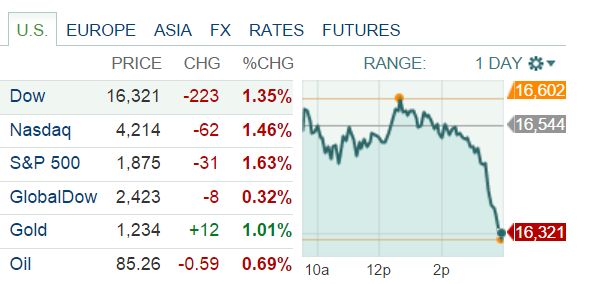 It is important what time to measure in your chart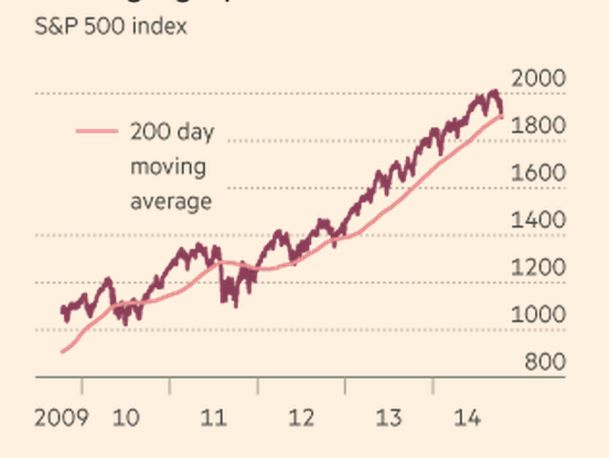 It is important what time to measure in your chart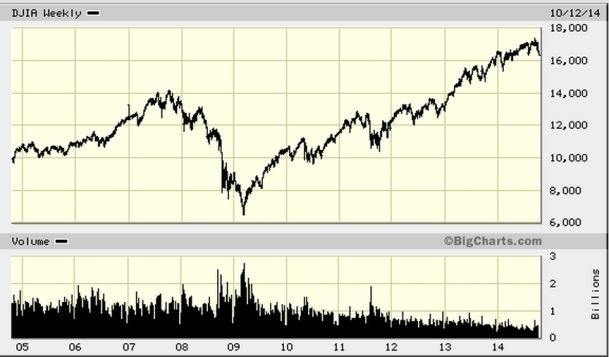 The Wall Street benchmark has lost 6.8 per cent since hitting a record closing high in September,
and market volatility has increased as investors fret that global economic growth is waning
just as the Federal Reserve concludes its third multi-billion dollar asset purchase programme.
---
Fund manager and prominent bear John Hussman is warning investors once again of the potential for a big market plunge
In the note, Hussman acknowledges that he's proven "fallible" since 2009
MarketWatch 29 September 2014
He argues that he's been miscast as a "permabear" — a "miscasting that may not become completely clear until we observe a material retreat in valuations coupled with an early improvement in market internals."
Hussman's detailed discussion of what he got wrong since '09 is definitely worth a read.
Hussman warns that many speculators seem to be simultaneously expecting they will eventually receive a "clear exit signal" now that the Federal Reserve's quantitative easing is coming to an end.
History shows that confidence is misplaced, Hussman warns:
Recall 1929, 1937, 1973, 1987, 2001, and 2008
History teaches that the market doesn't offer executable opportunities for an entire speculative crowd to exit with paper profits intact.
Hence what we call the Exit Rule for Bubbles: you only get out if you panic before everyone else does.
---
Don't confuse brilliance with a bull market
I've noticed that many long-time bears are capitulating. If you look at market history, when bulls feel invincible and beaten-down bears give up, you have the makings of a market top.
When the Fed attempts to extricate itself from the market one day, that's when the music stops, and the blame game begins.
MarketWatch, Michael Sincere 23 September 2014
---
Hindsight is a wonderful thing, especially when it comes to explaining market crashes.
The glaringly obvious guide to the next crash
James Mackintosh, FT September 21, 2014
Six times in the past 50 years US equities dropped more than 30 per cent in 12 months.
After most of them investors looked back at glaring warning signs and were baffled that they missed them.
If the S&P 500 were to plunge from 2,000 to 1,400 in the next year, what screaming sell signals would future generations gaze at in the history books
and wonder at our ability to ignore the obvious?
---
30 reasons not to worry about a stock market crash
Everyone knows that bearishness is for losers
Brett Arends, MarketWatch 12 August 2014
---
Next crash: $10 trillion like dot-com 2000? Subprime 2008
How big a drop? Truth is, nobody really knows. But everybody has an opinion.
First using this or that favorite theory, cycle, index, data, algorithm. Then they guess.
Paul B. Farrell, MarketWatch 11 August 2014
Gigabytes of data endlessly overload us all day, every day, 24/7.
How big? Even the pros don't really have a clue.
Does anyone really care, about the future? No, only today.
What's trending now? Our brains have lost the capacity to think long-term. We drift from trend to trend: The latest buzz. Rarely going deep, never into the future. Nor ask the moral questions, what's the right thing to do?
What counts: Today's trends. That's all.
---
OBS 1972
This stock bubble is 'beyond 1929 and 2007,' says John Hussman
It is easily beyond 1972 and 1987, beyond 1929 and 2007, and is now within about 15% of the 2000 extreme.
MarketWatch, July 27, 2014
Bubblan är så stor, så stor.
Större än Du nånsin tror.
Rolf Englund blog 30 juni 2014
---
Perhaps the most unhelpful of the psychological flaws we are prone to as investors is confirmation bias.
Our desire to seek out information that reinforces our existing beliefs and to reject anything that undermines our prejudices is powerful and dangerous.
Tom Stevenson Telegraph 10 November 2017
As Warren Buffett said:
"What the human being is best at doing is interpreting all new information so that their prior conclusions remain intact."
---
behavioral economics
The threat was that of a paradigm shift. This term, coined by philosopher Thomas Kuhn, refers to the dread moment
when scientists learn that up is down, black is white and everything they thought they understood about the world is wrong.
Noah Smith Bloomberg 1 June 2015
Cochrane definitely seems to think that the aim of behavioral economics is to replace the assumption of rationality with specific kinds of irrational thinking derived from psychology experiments.
If that could be done, that would truly be a massive paradigm shift in economics.

But it won't happen -- at least, not in our lifetimes.
This is because psychology itself has no unified theory, at least not yet. Cognitive and social psychology are basically pre-paradigmatic sciences
-- they produce a huge amount of experimental results, but they don't fit together into any coherent whole.
The past decade has been a triumph for behavioural economics,
the fashionable cross-breed of psychology and economics.
Tim Harford, FT 21 March 2014
---
Exuberance is not always 'irrational'
Stock market continuing to hit new highs almost daily despite the appalling geopolitical disasters
Robert Shiller may or may not have deserved a Nobel Prize for his academic work on behavioral economics
but as a practical guide to investing, his approach has been thoroughly refuted by real-world experience.
Anatole Kaletsky, Reuters, 25 July 2014
The implication is that Wall Street is grossly overvalued and that investors should prepare for a loss of at least the 40 percent retreat required to return the ratio to 16.

In fact, the expected fall from today's vertiginous price level should logically be much bigger than 40 percent.
For the definition of an average requires that a long period of prices far above average must be balanced by an equally long period of deeply under-valued stocks.
Why then are investors not panicking?
Full text
---
Alan Greenspan suggested home prices could not fall;
Ben Bernanke suggested the subprime mortgage market problems were contained; and
Janet Yellen argues complacency in the market is not a problem.
Axel Merk, Financial Times 9 July 2014
---
Companies no longer want to buy their own shares, a worrisome sign
MarketWatch, July 9, 2014
---
If ever the stock market flashed a 'sell' signal, it's now
It's not too late — yet — to move to cash
MarketWatch 9 July 2014
---
Dow 17,000
Since 1929, stock-market rallies have had things in common that this one doesn't
First, low interest rates have made other investments unattractive
Second, the investing public isn't really buying stocks
David Weidner's WRITING ON THE WALL, July 8, 2014
---
Has the beginning of the end of the bull market begun?
Unless corporate profitability has reached some kind of permanently high plateau,
the recent drop is just the beginning of a much bigger decline.
MarketWatch 25 June 2014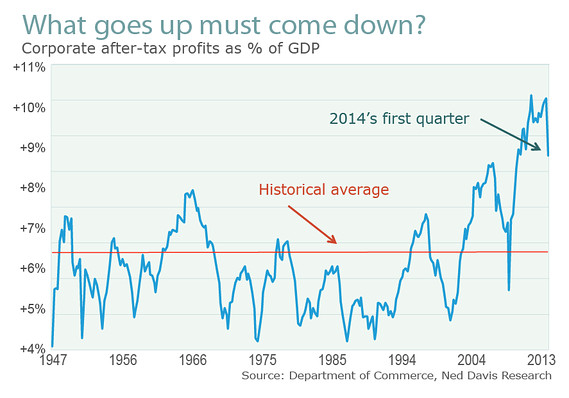 ---
How much of the world's fossil fuel reserves will eventually be burnt?
Either the world will abandon its pledge to keep emissions below the level thought to produce a temperature rise of 2C
or the fossil fuel companies are holding stranded assets and investing in unusable ones.
Investors are implicitly betting on the former possibility.
Martin Wolf, Financial Times 17 June 2014
---
Deutsche Warns
Markets Have Left The "Complacency" Phase, Have Entered Full Blown "Mania"
Tyler Durden zerohedge 9 June 2014
With a closing P/E ratio over 17 and a VIX under 11, Deutsche Bank's David Bianco is sticking with his cautious call for the summer.
Their preferred measure of equity market emotions is the price-to-earnings ratio divided by the VIX.
---
Stocks are telling you a bear market is coming
MarketWatch, May 14, 2014
---
Are Valuations Really Too High?
John Mauldin 12 May 2014
---
Money Mania: Booms, Panics and Busts from Ancient Greece to the Great Meltdown by Bob Swarup. Bloomsbury Press
So what does Mr Swarup's offering, Money Mania, add to the field? First it is unusually well-told, and expansive in scope.
Similarities between different episodes are breathtaking. Events in Ancient Rome and Athens, and Georgian Britain followed the same pattern as the crisis of 2008.
Review by John Authers, FT 27 April 2014
The problem is that we seem doomed to keep repeating financial crises. Other books have pointed out the cycle by which greed comes to overcome fear, credit is made too easy, and markets are taken way beyond what any economic fundamentals can justify, before they crash.
Money Mania: Booms, Panics and Busts from Ancient Greece to the Great Meltdown by Bob Swarup. Bloomsbury Press, Amazon
---
"Don't confuse brilliance with a bull market"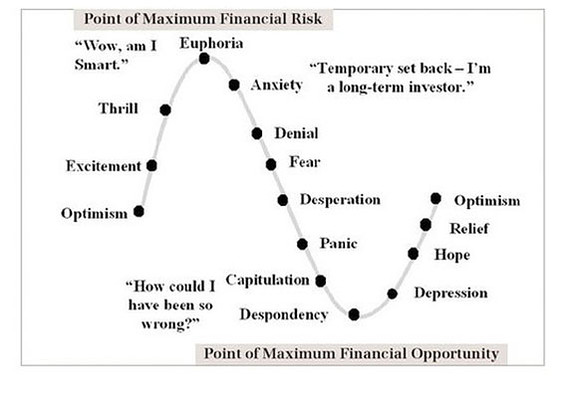 ---
11 april 2014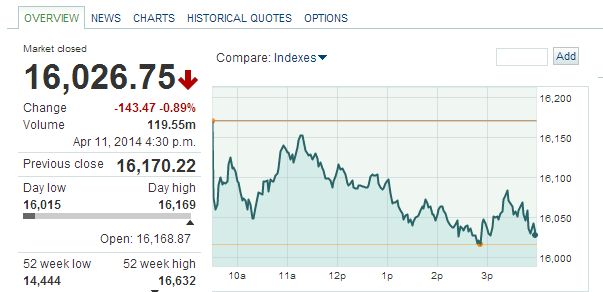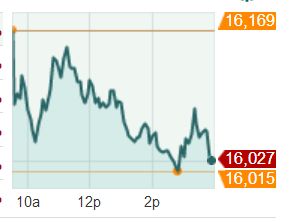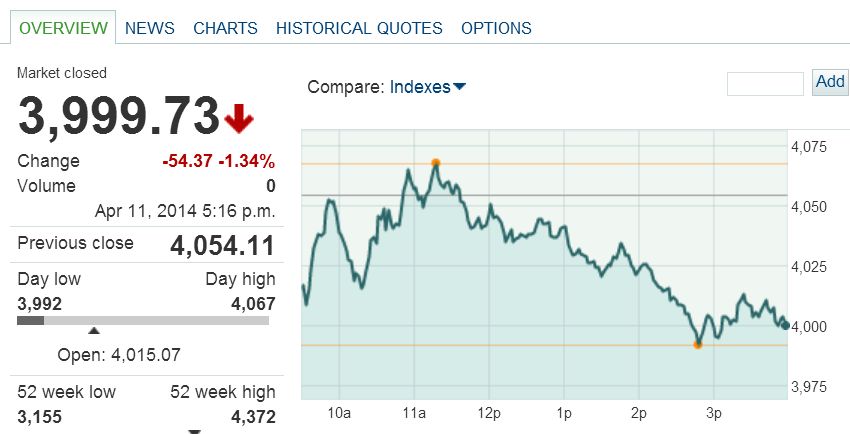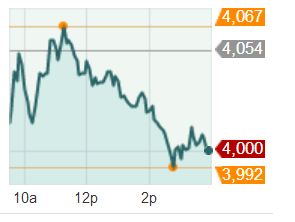 ---
10 april 2014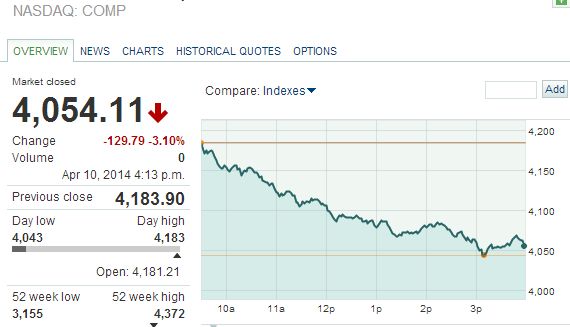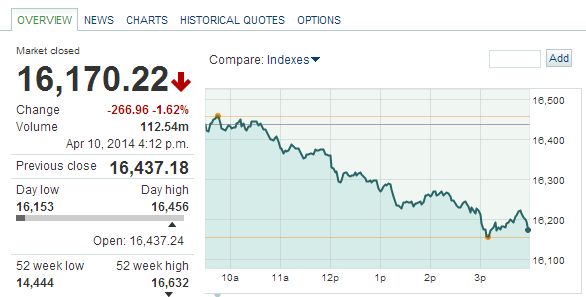 ---
Vändpunkten äntligen här? Neråt i New York i fredags.
För den som i decennier har varnat för börskrasch kanske vad som hände i fredags i New York kan vara ett nytt hopp?
Rolf Englund blog 2014-04-08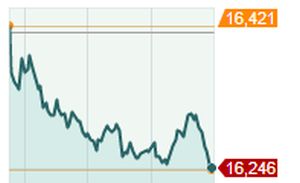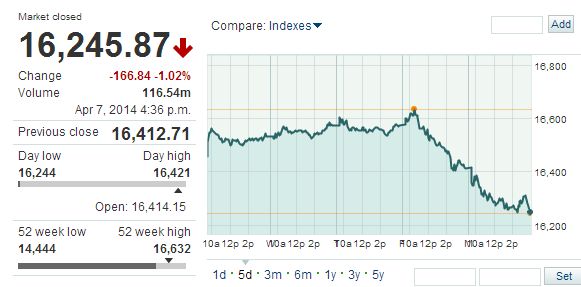 ---
Fleckenstein, absurd stock prices, och Kenyes
"The market can stay irrational longer than you can stay solvent"
Rolf Englund blog 26 mars 2014
---
Stocks are telling you a bear market is coming
MarketWatch, May 14, 2014
Bear markets start with a whimper or a bang.
You may have noticed that some financial analysts on television seem confused.
One week they make a bearish prediction, then reverse course. This is typical as the market transitions to a bear market.
Many commentators are confused because what has worked in the past stops working.
Also, the behavior of other assets such as bonds and commodities don't make sense.
That's a clue the market is entering a danger zone.
Another red flag:
Investors are buying stocks on margin at levels higher than in the previous peak years of 2008 and 2000.
Whenever margin reaches excessive levels, bad things happen to the stock market.
---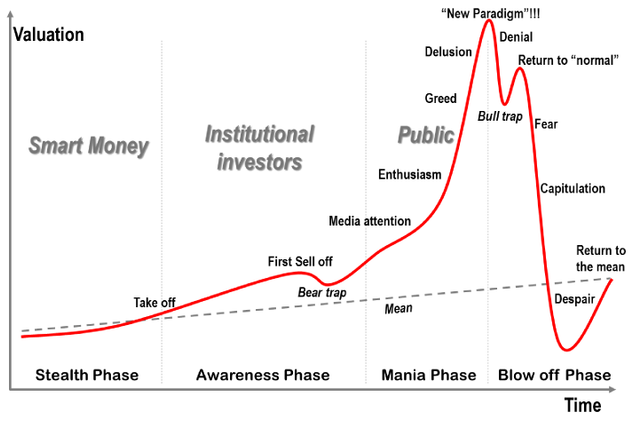 My friend Josh Brown reminded us yesterday of this terrific chart from Jean-Paul Rodrigue,
a professor in the department of global studies and geography Department at Hofstra University.
Of course, the key question is: Where are we on the chart?
Bloomberg 18 March 2014
---
Den stora paniken 1873, som ledde till den långa depressionen 1873–96.
Waldemar Ingdahl, SvD Understreckare 13 februari 2009
---
Everyone knows how the Great Depression fuelled support for extremists on both the left and right. Less well known is the way
the original Great Depression – the one that began in 1873 and involved a quarter-century of deflation – led to a wave of populism on both sides of the Atlantic.
Causes dear to 1870s populists ranged from anti-Semitism to bimetallism. Nowadays anti-immigration and euroscepticism are more likely.
Niall Ferguson, FT April 18, 2014
---
Börskrasch! - Historisk analys
Lars-Eric Bränfeldt, Affärsvärlden 28 november 2008
I maj 1873 kollapsade den upphaussade Wienbörsen och mängder med banker gick omkull.
Banker i andra europeiska länder gick också omkull och oron spred sig till USA där en av de stora bankerna föll och drog med sig många järnvägsföretag i fallet.
Järnvägsföretagen, som var den ledande industrin vid denna tid, hade finansierat sig med komplexa värdepapper som få förstod.
I september rasade New York-börsen ihop och fick hålla stängt i tio dagar.
Efter krascherna i Wien och New York följde det som brukar kallas Den långa depressionen, eftersom den varade ända till 1896.
I slutet av denna långa kris kom en annan som brukar kallas Baringkrisen efter den brittiska banken. Den hade gjort alltför vågade satsningar i argentinska infrastruktur­obligationer och fick därför räddas av den brittiska centralbanken.
---
Why Humans Are Hard-Wired To Create Asset Bubbles
I think that most bankers are in fact inherently decent people.
We just put them in situation in which their conflict of interest is tremendously high and their social norms are incredibly dysfunctional.
Adam Taggart, Peakprosperity, February 15, 2014
Human beings are incredibly forgiving, but nobody has really stood up and said, "I am really sorry. I made all of these terrible mistakes. I want this particular bank to start fresh and caring about people," right?
Nobody has admitted anything.
---
Not only does today's CAPE of 25.4x suggest a seriously overvalued market,
but the rapid multiple expansion of the last few years coupled with sluggish earnings growth suggests that this market is also seriously overbought
Today's CAPE is just slightly less expensive than the 27x level seen at the October 2007 market peak and
modestly below the level seen before the stock market crash in 1929.
John Mauldin, 27 January 2014
CAPE
Robert Shiller has been out there talking about a stock-market bubble again.
"The boom in the U.S. stock market makes me most worried. Also, because our economy is still weak and vulnerable."
Shiller has some clout among investors because he called a bubble in the U.S. housing market
via his book "Irrational Exhuberance" just as everyone thought prices had nowhere to go but up.
MarketWatch, December 2, 2013
Last week, Shiller said he was concerned about a rise in his cyclically adjusted price-to-earnings ratio, CAPE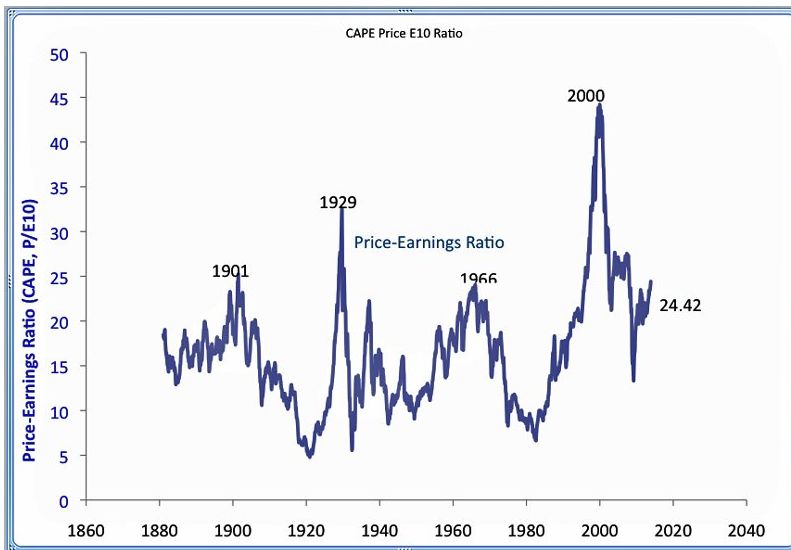 ---
Permabear
Secular bear markets are not "one-way" down markets,
but a series of "cylical" ups and downs.
zerohedge, August 25, 2013
Inflationadjusted S&P 1950-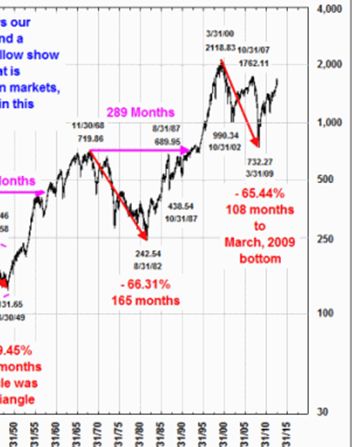 ---

Monday, 29 Apr 2013 | 1:52 PM ET
---
The bond market is an accident waiting to happen
When the bond market finally does crack, it is going to be one epic nightmare that is going to make 2008 and 2009 seem like a picnic.
Bill Fleckenstein, 21 April 2013
---
Lessons of the 1930s
Stiglitz describes a different view of the Depression which purports to overthrow the current macroeconomic understanding
decline in America's agricultural sector
The Economist Dec 13th 2011, by R.A.
THE economic rough patch of the past few years inevitably inspires comparisons to and reconsiderations of last century's big economic calamity. This week, in fact, The Economist features a briefing examining some as yet unheeded lessons of the Depression.
Economist Joe Stiglitz describes a different view of the Depression in Vanity Fair, which purports to overthrow the current macroeconomic understanding of the troubles of the 1930s. The Depression, he says, can be chalked up to decline in America's agricultural sector
Will the dam break in 2007 ?
Stiglitz, The Guardian, 27/12 2006
Joseph Stiglitz
a Nobel-prize winning economist
---
For those of us who lived through the ERM crisis of 1992 and followed German events closely at that time, all this has a familiar ring.
It was not just recession in the UK, Italy, Spain, and parts of Scandinavia that caused the fixed exchange system to blow up, it was the deadly cocktail of slumps and banking troubles in these countries combining with German overheating. The mix triggered the final crisis.
Ambrose Evans-Pritchard, February 21st, 2011
---
Based on one measure of volatility, stocks haven't risen this much amid price swings this narrow since 1971
Don't get complacent.
CNBC 17/2 2011
---
The S&P 500 hit 1334 in morning trading Wednesday.
You may not have inscribed that number on your forehead, but it is noteworthy all the same because
it means the big-cap stock index has doubled its financial meltdown low of 666.79 on March 6, 2009.
CNN February 16, 2011

*

Ekonomiläroböckerna och finanskrisen
I min egen lärobok, som har kommit i elva upplagor, finns visserligen en del avsnitt
om bubblor och om irrationaliteten och kasten på t.ex valutamarknaderna.
Men de avsnitten måste byggas ut till nästa upplaga. Likaså måste Keynes få en grundligare behandling - inte minst begreppet "likviditetsfälla" och hur den påverkar penningpolitiken.
Klas Eklund blog 2/3 2009
---
Most of the news about markets are just now on the page for

Hedgefunds
---
"Börsutvecklingen har varit mera svängig i Sverige än i USA."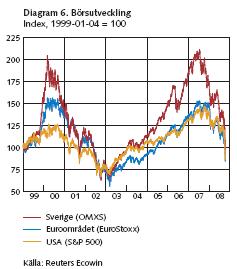 Dannne Nordling 23/10 2008
---
Kreditfesten har gett rekordvinster och bankdirektörerna har belönats med enorma rikedomar.
Rikast av alla är SEB:s Annika Falkengren, 46.
Hur smart är det med bonusar som gör bankernas chefer rikare ju större risker vi som låntagare uppmuntras att ta?
Aftonbladet 12/10 2008
Handelsbankens vd har i stället ett av branschens mest frikostiga pensionsvillkor. Han får gå i pension vid 58 års ålder och behåller då 65 procent av lönen. Räknat på dagens lön ger det en pension värd 101 miljoner kronor fram till 80 års ålder.
Nordeas vd Christian Clausen får enligt samma beräkningssätt en pension värd 74 miljoner.
---
- Vi kan mycket väl vara väldigt nära botten och jag tror börsen står högre vid årsskiftet, säger topprankade fondförvaltaren Ann Grevelius, snart 42, ansvarig för svenska aktieförvaltningen på Handelsbanken Fonder
Privata Affärer Placeringsguiden, pressläggning 2-3 oktober 2008
Bor: Villa på Lidingö
Fritidsintressen: Golf, tennis, resor och sommarstället i Loftahammar
Som den fondförvaltare hon är, så tycker hon självklart att fonder är ett lysande spartips.
"Jag slår ett slag för månadssparande i fonder. Då köper man billiga andelar om börsen går ned och går börsen upp är man med hela vägen. Jag tycker man kan välja svenska bolag. Vi har många svenska exportbolag som har stor exponering mot tillväxtmarknader", säger Ann Grevelius.
Dagens Industri 2008-05-01
Det finns inga tecken på att bostadsmarknaden i Sverige är övervärderad
"prisökningarna har varit lägre än i "bubbelländer" som Norge, Spanien och Storbritannien".
SEB:s /dåvarande/ chefsekonom Klas Eklund 10/5 2005 DI
---
This week's 18% decline, and Friday's 1018.77-point swing from low to high, were the biggest since the Dow was created in 1896. Until now, the Dow's worst week was in 1933. Total trading volume of stocks listed on the New York Stock Exchange also hit a record, 11.16 billion shares.
The damage has been devastating both to households and to major investment institutions. Investors' paper losses on U.S. stocks now total $8.4 trillion since the market peak one year ago, based on the value of the Dow Jones Wilshire 5000 index, which includes almost all U.S.-based companies.
The blue-chip average is down 40% from last October's record, its biggest decline since 1974
Wall Street Journal 11/10 2008
Very nice clickable Chart of the Dow from 1896 to 2007
Extremely long sideways periods
Gary D. Halbert, Aug 2008
---
Sedan toppen, som inträffade den 17 juli 2007, har börsen nu fallit med exakt 50 procent.
Börsens sammanlagda marknadsvärde på onsdagen var vid 15.00-tiden 2 430 miljarder kronor.
Det betyder samtidigt att värden för ungefär 2 500 miljarder kronor vid Stockholmsbörsen har gått upp i rök på 15 månader.
Affärsvärlden 8/10 2008
---
"Börsen på träsknivå"
DI 28 juni 2008
Klicka här för att se Stockholmsbörsen de senaste fem åren
---
China's main share index
The Shanghai Composite Index, is trading 50% below the peak level reached in October 2007.
The index had previously risen almost sixfold in two years.
BBC 22/4 2008
100 x 6 = 600/2 = 300
---
Reuters reports that consumer sentiment has plunged to a new 26-year low.
Let's see... That would be 1982...
Wasn't that the beginning of the last bull market in stocks?
Tim Iacono 11/4 2008
---
More than $6.7 trillion has been wiped from world stock markets since the beginning of the year
Bloomberg 9/2 2008
---
People don't seem to grasp that we've had a historically long (since 1982),
broad (every asset class in the world) and
steep (e.g., the DJIA from under 1,000 to over 13,000, interest rates from 15+% to 5%)
economic and financial boom.
It's gone on so long that everyone pretty much feels that prosperity and profit are just the way the world works.
Doug Casey, July 2007
But if you credit Austrian School economic theory, which I certainly do, you're forced to believe that the Business Cycle exists.
The Business Cycle is driven largely by government intervention in the economy... most importantly, currency inflation.

These things give false signals to businesses and investors, which cause distortions and misallocations of capital. When, inevitably, the errors start to be corrected, the result is an economic downturn.
It will be called a "recession" if the government succeeds in preventing widespread bankruptcies and unemployment through one more dose of inflation.
Or it will be called a "depression" if things slip out of the government's control.
Am I predicting the Greater Depression may be upon us?
Well, I'm not a fortune teller.
But my gut feel is: yes.
---
The Fed can indeed be accused of being a serial bubble-blower.
But this is not because it has been managed by incompetents.
It is because it has been managed by competent people responding to exceptional circumstances.
Martin Wolf, August 22 2007
---
Anybody who has borrowed to buy securities – a category that includes a lot of banks – has a problem.
Lenders want their money back, but selling assets is difficult, so there is a squeeze on cash.
That, in a nutshell, is what has been happening in the past couple of weeks and what may continue.
Financial Times editorial 18/8 2007
The falls have not made the market cheap. While the price of the S&P 500 index of US stocks may seem reasonable at about 15 times its earnings, those earnings are unusually high and will fall back at some point. Other real assets, such as houses in much of Europe and North America, are also expensive relative to their historical levels.
The market has been expensive for a long time, however, and trying to predict when it will fall has been a dangerous and unprofitable game.
With the world economy growing fast, now seems an unlikely time for profits or equity valuations to collapse. If you were happy to buy shares a month ago, there is little reason to sell them now.
---
Sommarens fall har skapat köpläge. Det säger Ronny Jacobsson, aktiechef på Swedbank Markets som i dagarna reviderar sin aktiestrategi. "Börsen handlas betydligt under vårt fair value.
Det är en historiskt sett lågt värderad börs", säger Ronny Jacobsson.
DI 28/8 2007
---
Nu är det värsta över
Gissa om jag får äta upp den här rubriken om jag får fel.
Gunnar Örn, DI 2007-08-24
Den som påstår sig veta säkert har antingen dåligt omdöme eller dåliga placeringar att bli av med.
Centralbankscheferna i Europa och USA lyckades avvärja en allmän panik genom att pumpa in extra mycket likviditet i banksystemet. Fedchefen Ben Bernanke och ECB-chefen Jean-Claude Trichet har agerat helt enligt regelboken.
Det började med att ECB pumpade in närmare 900 miljarder kronor i det europeiska banksystemet den 9 augusti. Andra centralbanker följde snart efter.
Den avgörande insatsen kom förra veckan, då den amerikanska centralbanken Federal Reserve sänkte diskontot med en halv procentenhet och meddelade att alla banker kunde få låna obegränsat till denna ränta i upp till 30 dagar - även med bostadsobligationer och "relaterade tillgångar" som säkerhet.
Det har länge hetat att lågt belånade svenska börsbolag inte berörs av kreditfrossan. De har ju inga som helst problem med finansieringen!Men det går inte att komma ifrån att de svenska börsbolagen gynnats indirekt av de senaste årens osunda lånemarknad. Ökad global efterfrågan har delvis spätts på av billiga krediter till betalningssvaga hushåll och företag.
---
Precis som vid andra tillfällen när börsen rasat träder proffsen fram, analytikerna, aktiestrategerna och mäklarna och råden är sig lika:
Ha is i magen och sitta still i båten!
Fredrik Braconier, E24.se 18/8 2007

Och när den amerikanska kreditmarknaden är så skakig att centralbankerna runt om i världen tvingas till massiva stödåtgärder talar svenska analytiker om tillfälliga hack i kurvan och en ­nyttig korrigering.


Alla de som minns höstkrascherna 1987, 1997, 1998 och 2000 känner igen formuleringarna. Somliga minns uttrycken med ett leende medan andra som följde rekommendationerna och följde sina bolag till botten bara blir arga och bittra.

Frågan är varför förståsigpåarna alltid manar till lugn och besinning när de i själva verket talar mot bättre vetande eller, i bästa fall, är lika villrådiga som de som ska följa råden? Svaret är ­naturligtvis att man inte ger bort de bästa råden. Dem behåller man för sig själv eller sina kunder som har råd att betala för dem.Alla aktörer på finansmarknaderna är delar i ett system vars mål är överordnade objektivitet och sanning. ­Målet för deras organisationer är att tjäna pengar. Till sig själva och till sina företag medan marknaden, hur den än definieras, förväntas betala.

Precis som när fastighetsmäklare alltid ser stigande priser och en ökad ­efterfrågan på fastigheter framför sig, är det otänkbart för en aktieanalytiker eller mäklare att ge rådet "Sälj så fort som möjligt". Även om det skulle vara det klokaste just då. Sådana råd skulle bara skapa ett säljtryck som sänker kurserna ytterligare och i slutänden drabbar det egna företaget.

*

From article WSJ, October 17, 1999
Despite Terrible Week for Stocks, Advisers Urge Investor to Stay Put
"Nu gäller det att ha is i magen"

"Nu har det vänt" - Ha is i magen"
---
5 ways to know if the bull is over
Before it keels over, a bull market typically leaves a few road signs.
Here's what to keep an eye on - from Money Magazine.
CNN 16/8 2007
---
The doubts burst into the open on August 9th when central banks were forced to inject
liquidity into the overnight money markets because banks were charging punitive rates to lend to each other.
The Economist print 16/8 2007
---
Trist utveckling
hela uppgången från tidigare i år är borta.
Sedan toppen för exakt en månad sedan, den 16 juli, har börsen backat nära 13 procent.
Dagens Industri 16/8 2007
---
Central bank intervention last Friday to inject liquidity into the global financial system
did not mark the beginning of the end of financial market turmoil.
It was merely the end of the beginning.
Liquidity injections will not deliver lengthy respite. The next phase of market volatility will be more vicious than before, led by downgraded ratings on credit instruments and followed by further dislocation in the credit markets that will spill over to equity markets.
Avinash Persaud, Financial Times 16/8 2007
The writer is chairman of Intelligence Capital Limited and an emeritus professor at Gresham College, London
Credit markets are the big brother of equity markets. In the US and Europe, capitalisation of private debt securities is a combined $28,000bn, compared with $23,000bn in equity markets.
Over the past 20 years, governments built regulatory systems to avoid credit problems at one bank becoming systemic. These systems succeeded, but only by shifting risks elsewhere. A measure of this failure is that the instances of emergency rate cuts have become no less frequent. Think of 1987, 1989-92, 1995, 1998 and 2001-03. Today, the principal avenues of systemic risk are via investment losses, not bank runs. The example from Japan in the 1980s and emerging Asia in the 1990s is that large and widespread investment losses will lead to big reductions in consumption and investment.
Moral Hazard
---
Sedan årshögstanoteringen i mitten av juli har Stockholmsbörsen tappat 557 miljarder kronor i värde.
Räknat på nedgången var Stockholmsbörsen vid klockan 14.30 sammanlagt värd cirka 4.327 miljarder kronor
DI 10 augusti 2007
---
Is the turmoil in the U.S. stock market starting to resemble the biggest financial crisis of the past century?
Play video at CNN August 10 2007
---
Where was the PPT today?
Things are really starting to get interesting now . . .
The Big Picture Friday, August 03, 2007
I have never been a big believer in the Plunge Protection Team (PPT).
The 78% drop in the Nasdaq from 2000 to 2002 was my proof.
---
The recent sell-off in financial markets is good news.
It may, at last, have brought people to their senses.
The Economist 2/8 2007
---
Dow tumbles 280 points as credit fears intensify
Credit market concerns and negative Bear Stearns news sparks last-minute selloff sending the Dow, Nasdaq and S&P 500 more than 2% lower.
CNN 3/8 2007
- Bond market turmoil sending investors fleeing from risk may be a worse predicament than the 1980s stock market fall and Internet bubble burst, Bear Stearns Chief Financial Officer Sam Molinaro said Friday.
"These times are pretty significant in the fixed-income market," Molinaro said on a conference call with analysts.
"It's been as bad as I've seen it in 22 years. The fixed-income market environment we've seen in the last eight weeks has been pretty extreme."
"So, yes, we would make that comparison" to market events that also include the debt crisis of the late 1990s, he said.
http://money.cnn.com/2007/08/03/markets/bond_turmoil.reut/index.htm
---
It's time to panic. Why? I'll tell you.
What has been frustrating for me is that, despite having forecast a number of our domestic economy's problems, the world's stock prices have embarked upon an almost unrelenting advance.
Doug Kass
This story originally appeared on RealMoney Silver on July 23, and is being reprinted as a bonus for TheStreet.com readers.
Full text
300-point drop? It's just the start
Bill Fleckenstein thinks we're headed for an even bigger fall
Read more here
---
Why did central banks not follow BIS 1995 agreement?
Financial Times, letters, October 22 2008 from Mr Jim Blum.
• Investment grade securities must be rated by two authorised credit rating agencies (page 8)
• Central banks responsible to monitor performance of rating agencies (page 9 top)
• Central banks may restrict inclusion in calculation of capital of "non-qualifying" issues and assess charges against them (page 9 bottom)
• Banks responsible to recalculate on a regular basis valuations of derivatives equities, on and off the balance sheet (page 19)
• No capital charge required on "structural positions" on items "deducted" from bank capital when calculating capital base in investments in "unconsolidated" subsidiaries (page 24 bottom).
---
Turmoil reveals the inadequacy of Basel II
Harald Benink and George Kaufman, Financial Times February 27 2008
The turmoil in world financial markets, triggered by defaults on subprime mortgages in the US, raises questions about macroeconomic policy, financial stability and the design of financial regulation, including the new Basel II capital adequacy framework for banks.
The implementation of Basel II coincides with massive losses reported by some of the world's largest banks, requiring large-scale recapitalisations. The risk models that anchor Basel II are basically the same as the ones many of these banks have been using in recent years.
Sheila Bair, chairman of the Federal Deposit Insurance Corporation in the US, recently noted that these models had important weaknesses which, in the light of today's market turmoil, were a flashing yellow light to drive carefully.
---
The eurozone's crisis has blown sky-high the idea that developed countries are 100 per cent safe.
A bank can buy all the Spanish debt (current rating: AA) it likes without having to back it up with a cent of capital
Lex, FT May 27 2010

One of the bedrocks of finance has been that sovereign debt is a sure thing. The risk-free rate, for example, is the yield on short-dated government bonds. The Swiss-based Bank for International Settlements also treats high-quality, longer-term debt as risk free for solvency purposes.

This position may no longer be credible.

To be sure, at 60 per cent, Spain has a much lower level of gross government debt versus the size of its economy compared with Italy, Ireland, Portugal and Greece. But the chance that Spain will default is no longer zero.
---
---
Bankvärlden håller andan.
Idag och imorgon möts Baselkommittén för att besluta om nya regler för bankerna som mest sannolikt kommer att leda till högre räntor för hushåll och företag.
Annelie Östlund E24 2010-07-14
– De ekonomiska effekterna av det ursprungliga förslaget skulle sannolikt bli mycket negativa. Det är ingen mening att göra banksystemet så otroligt robust att ingen vill låna pengar för att det blir för dyrt, och ingen vill ge kapital till bankerna för att de inte är tillräckligt lönsamma, säger Anders Kvist, SEB:s treasurychef.
Det som skulle få störst konsekvenser för svenska banker är enligt SEB-chefen Annika Falkengren de föreslagna så kallade likviditetskvoterna: "Liquidity coverage ratio" och "Net stable funding ratio".
Även industrin har räknat på vad de nya bankreglerna kan komma att kosta. Och vissa är oroliga, däribland Anders Nyrén, vd för högbelånade Industrivärden.
---
Larger polygamous financial institutions were allowed by the Basel capital regime to run with lower capital buffers than their smaller monogamous partners.
John Plender Ft Feruary 23 2010
As Andrew Haldane of the Bank of England has pointed out, bank profits ceased in the mid-1980s to be boring as the banks appeared to have discovered a money machine. While the return on assets, which reflects management skill in extracting profits from a pool of assets, was mediocre, the return on equity, powered by luck and leverage, soared. At the same time, larger polygamous financial institutions were allowed by the Basel capital regime to run with lower capital buffers than their smaller monogamous partners. Now this bias in favour of size has been made worse by crisis-induced mergers.
We are left with a financial system in which over-leveraged banking behemoths operate as an off-balance sheet adjunct of the public sector, while nurturing many profit centres that are increasingly oligopolistic. In wholesale finance, super-profits are generated by a handful of giants in opaque over-the-counter markets. In retail finance, there are numerous areas where oligopoly and customer inertia underpin excess profits.
It follows that bankers in the boom were being paid bonuses not for brilliance but for excessive risk taking via leverage and for oligopolistic super-profits.
Remove the punchbowl before the party gets rowdy
By John Plender
Published: January 19 2010
---
It was the 1988 Basel Accord that first created the opportunity for regulatory arbitrage
whereby banks could shunt loans off the balance sheet.
John Plender, FT November 6 2007

In effect, a new capital discipline designed to improve risk management had the unintended consequence of creating a parallel banking system whose lack of transparency explains the market seize-up since August. As the new "originate and distribute" model reduced the incentive for banks to monitor the credit quality of the loans they pumped into collateralised loan obligations and other structured vehicles, the Basel rules failed adequately to highlight contingent credit risk. That is, when conduits and structured investment vehicles (SIVs) ran into difficulties, credit risk started to come back on to bank balance sheets, putting strain on bank capital.
Within banks executive bonuses and other incentives have the effect of encouraging a perpetual dash for growth at ever-increasing risk. Why be prudent when you can bet the ranch in the knowledge that a losing bet pays so handsomely?
The snag is that in banking, betting the ranch increases systemic risk.
---
"Where are the buyers getting the money to buy all of this stock and bond madness and act like a bunch of morons?"
"'Margin Debt' Hits Record $353 Billion on NYSE"
Mogambo Guru on Jul 24th, 2007
Why are the stock markets and bond markets rising?
For the only reason that there is: Because there are more buyers than sellers! Hahahaha!

Perhaps your question would have been better phrased as,
"Where are the buyers getting the money to buy all of this stock and bond madness and act like a bunch of morons?"
If that had been your question, I could have saved us both a lot of time by merely sending you to Online.wsj.com, which reports that, "'Margin Debt' Hits Record $353 Billion on NYSE", which means that, "Investors are borrowing record sums of money to finance trades on the New York Stock Exchange."
"Specifically, under Basel II, a broker-dealer must set aside just 56 cents in capital to hold US$100 of triple-A-rated securitizations." Yow! Fifty-six lousy cents?
# Moron (psychology),
a psychology-related term for a person with a genetically determined mental age between 8 and 12
---
Bear Stearns' sobering lessons
It raises questions about the exposure of market participants to risk,
and the wisdom of aspects of the Basel II accords on bank capitalisation.
Sean Egan, Financial Times August 2 2007
---
"The trend is your friend."
That is an old saw on the market, and it has made many rich.
When the trend breaks, you have nothing to hold on to. That is when panic ensues.
John Authers, Financial Times, June 8 2007
That is what happened on Thursday morning in the markets for government bonds, led by US Treasuries. It led to a wave of selling that threatened to change the underlying mathematics on which much of the world's financing is based.
It also put the bull market in global stocks, now in its fifth year since equities began to recover from the bursting of the tech bubble in 2002, to one of its stiffest tests.
For 20 years, bond yields have been falling steadily. This reflects growing confidence that inflation has been squeezed out of the world economy.
Yields have fluctuated, but the peak of each cycle over the last two decades has been lower than the peak that preceded it.
Those peaks formed a perfect downward trend line. The straight line perfectly crosses all the peaks.
That line had been a great source of confidence. Once it was crossed – and that moment came when the 10-year yield reached 5.05 per cent early on Thursday in New York – traders had nothing left to hold on to. They started selling indiscriminately, with yields coming to rest at 5.13 per cent by the time most Wall Street traders left their desks on Thursday.
What caused that trend line to break? There was no news of any great importance on Thursday. Rather, an accumulation of evidence at last reached critical mass.
This is not yet the end of the five-year bull market in stocks. At 5.1 per cent, Treasury bond yields remain low by historical standards.
But it may mark the beginning of the end.
"The Germans have received back again that measure of fire and steel which they have so often meted out to others.
Now this is not the end. It is not even the beginning of the end. But it is, perhaps, the end of the beginning."
Winston Churchill following the victory at El Alamein, 10 November 1942.
More of the same
"We shall never surrender!"
"We shall not flag or fail. We shall go on to the end. We shall fight in France, we shall fight on the seas and oceans, we shall fight with growing confidence and growing strength in the air. We shall defend our island, whatever the cost may be. We shall fight on the beaches, we shall fight on the landing-grounds, we shall fight in the fields and in the streets, we shall fight in the hills.
We shall never surrender!"
---
---
Any excuse will do as markets continue to move on the expectation that global central banks don't have the cojones to withdraw liquidity, that is, to increase the cost of debt in our highly leveraged global financial system
May 17, 2007 (iTulip)
---
The historical pattern of a 10-year rhythm of cyclical financial crises
The 30% US market crash of 1987, in which investors lost 10% of 1987 GDP, was set off by the 1985 Plaza Accordto push down the Japanese yen with an aim of reducing the growing US trade deficit with Japan.
The 1987 crash was followed 10 years later by the Asian financial crisis of July 2, 1997
Henry C.K. Liu, Global Research, May 9, 2007
The Fed's stated goal is to cool an overheated economy sufficiently to keep inflation in check by raising short-term interest rates, but not so much as to provoke a recession. Yet in this age of finance and credit derivatives, the Fed's interest-rate policy no longer holds dictatorial command over the supply of liquidity in the economy. Virtual money created by structured finance has reduced all central banks to the status of mere players rather than key conductors of financial markets. The Fed now finds itself in a difficult position of being between a rock and a hard place, facing a liquidity boom that decouples rising equity markets from a slowing underlying economy that can easily turn toward stagflation, with slow growth accompanied by high inflation.
---
US consumer credit jumped in March. But the greater rise was in revolving consumer credit, ie borrowing on credit cards at 13½-14½% interest.
This is not sustainable.
Moreover, personal spending and car sales both weakened in March. If that still needed a jump in borrowing to finance, then the outlook when borrowing growth slows, is very bleak. (Gabriel Stein)
---
The last time stocks were setting records the way Wall Street is now was way back in March of 2000,
and we all remember how that ended. A recession and a brutal bear market were just around the corner.
Chris Isidore, CNNMoney.com senior writer May 8 2007
That's why it's easy for some investors to be worried now, even with the Dow Jones industrial average on its best run in 80 years. At the same time the S&P 500, a broader measure of blue-chip stocks watched more closely by Wall Street pros, is nearing its record high as well.
But while the stock market's partying, economic growth is the weakest it's been in four years. Two key parts of the economy - housing and auto sales - are already in recession. Home prices are posting historic declines and auto sales have been tanking. And another pillar of economic growth, business spending, has been weak.
---
Countdown to a Meltdown
America's coming economic crisis. A look back from the election of 2016
James Fallows, The Atlantic Monthly July/August 2005
---
We found 28 bubbles. Every one of the 28 went back to trend, no exceptions, no new eras, not a single one that we can find in history."
Jeremy Grantham
---
Mild stagflation, predicted as the ultimate outcome of radical Fed easing in this column five years ago, is now here. So, how does the market react to the bad news? By going higher, naturally. It has now been up 19 of the last 21 trading days. Amazing.
John Mauldin, 27/4 2007
---
I believe US stocks are now very attractive for investors.
5 per cent real return on stocks still yields a 3 per cent premium over inflation-indexed bonds
Jeremy Siegel, FT, 26/4 2007
---
Recession
---
---
---
A real recession would quite likely end the current bear market in stocks,
just as in 1974, when a recession arrived to put an end to a savage bear market.
It was a period, in its combination of economic slowdown and post-bubble financial meltdown,
with a striking resemblance to the bear market that started in 2007
Jim Jubak CNBC 30/9 2008
---
The risk of a downward spiral of house prices is the primary danger facing the American economy.
Because of the structure of securitised mortgage finance, this risk has the potential to cause a global financial crisis.
Both of these problems will remain until a new policy brings stability to house prices.
Martin Feldstein, Financial Times, August 26, 2008
Very Important Article
---
The prospect for the economy isn't V-shaped, it's L-ish
When will it all end?
The answer is, probably not until 2010 or later. Barack Obama, take notice.
PAUL KRUGMAN, NYT July 18, 2008
---
Barclays warns of a financial storm as Federal Reserve's credibility crumbles
US central bank accused of unleashing an inflation shock that will rock financial markets
Ambrose Evans-Pritchard, Daily Telegraph 27/6 2008
---
Global Recession Monitor:
Which Countries Are on the Brink of Recession?
US; Canada, UK, Italy; Spain; Ireland, Baltics, Japan, New Zealand
Nouriel Roubini, June 25, 2008
Comment by Rolf Englund
Note the members of EMU, The Economic and Monetary Union with a Single Interest Rate:
Italy; Spain; Ireland, Baltics
Start of recession part of this page
---
Bernanke believes that the danger of a "substantial downturn" in the US economy has abated over the past month,
but that inflation risks are increasing.
FT June 10 2008
Start of recession part of this page
---
US unemployment rate reaches 5.5%
The US unemployment rate rose at its fastest pace in more than two decades in May,
BBC 2008-06-06
---
How well can an economy long characterised by soaring house prices, exploding debt and a dynamic financial sector adjust to a new world?
Martin Wolf, Financial Times May 1 2008
---
Case for an "L" Shaped Recession
Now that it's clear we are in a recession, the question has arisen as to what shape it will take:
"V", "U", "L", or "W".
Mish April 08, 2008
The current new consensus among macro forecasters and Wall Street firms is that the recession will be V-shaped, i.e. be short and shallow.
More likely to me is something like an "L" or a "WW" kind of scenario with the U.S. slipping in and out of recession for a prolonged period of time, perhaps 3-4 years or more.
---
Why this crisis is still far from finished
The writer is co-chief executive and co-chief investment officer of Pimco
Mohamed El-Erian, Financial Times April 24 2008
---
-Denna kris börjar redan utmana nedgången 1989/90,
som var den allvarligaste av de fem finanskriser som varit de senaste 20 åren.
Den ser också allvarligare ut än Dot Com-krisen och krisen i Mexiko 1994/95, skriver Morgan Stanley
E24 1/4 2008
---
"Downside risks to growth remain, including the possibilities that the housing market or the labor market may deteriorate to an extent beyond that currently anticipated, or that credit conditions may tighten substantially further."
Ben Bernanke, testimony before the Senate Banking Committee, February 14, 2008
---
It it is far from obvious that we face a major worldwide recession.
Samuel Brittan, FT January 31 2008
One of the reasons I went into economics was a puzzle about involuntary unemployment: the paradox of unsatisfied wants side-by-side with idle hands. While there are enough genuine problems because of the scarcity of real resources to satisfy everything we should like to do, depressions associated with lack of spending are an unnecessary extra; and there are more than enough ways of stimulating citizens or governments to spend more.
It took John Maynard Keynes' elaborate theory to persuade policymakers of the obvious.
The late Christopher Dow in his mammoth study, Major Recessions, defined these as occasions when gross domestic product showed a clear absolute fall between one year and the next.
The UK has experienced five of these since 1920: 1920-21, 1929-32, 1973-75, 1979-82 and 1989-93.
Alan Greenspan in the unjustly neglected, more speculative second half of his autobiography suggests average world inflation rate will by 2030 be at about 4½ per cent.
The snag is that unless policymakers put up a show of aiming at something like 2 per cent inflation,
the end result could be much more than 4½ per cent.
---
A recession is a normal part of the business cycle.
It takes a major policy mistake by a government or central bank to create a depression.
John Mauldin, February 2, 2008
---
If the US suffers a recession in 2008 or 2009 it will not be due to an industrial decline or an oil price shock.
It will be a recession that began in the financial system.
The response of the general public is confusion, tinged with horror,
at how intangible finance can impinge on their daily lives.
Financial Times editorial January 25 2008
---
The debate about recession is now about how deep and global its impact will be.
Lawrence Summers, FT January 27 2008
---
The intensifying credit crunch is so severe that
lower interest rates alone will not be enough
Dominique Strauss-Kahn, managing director of the International Monetary Fund.
Reported by Chris Giles and Gillian Tett, FT January 27 2008
---
A recession of global dimensions?
U.S. consumers have the past six years been
the most maniacal spending machines the world has ever seen.
CNN, Geoff Colvin, senior editor-at-large, January 22 2008
---
The issue here is not whether there is going to be a recession in the world or individual countries,
but what governments and central banks could do about it.
There are many problems about policies to maintain activity,
but lack of policy instruments is not one of them.
Samuel Brittan
---
I anledning av DNs huvudledare om att
En så stor enskild sänkning av räntan har Fed inte gjort sedan recessionen 1982.
Läget i den amerikanska ekonomin är av allt att döma värre än väntat.
Rolf Englund 23/1 2008
---
Don't count on a 'normal' recession, Jubak
---
The recent government report that US gross domestic product increased 0.6 per cent in the first quarter was very misleading.
Monthly data since January indicate that GDP have been declining since the start of this year.
Martin Feldstein, FT May 7 2008
Because US mortgages are "no-recourse" loans (lenders have no recourse to the house's owner beyond the value of the house), individuals with negative equity have an incentive to default. There are now an estimated 8m negative-equity mortgages – more than 15 per cent of all outstanding mortgages. Defaults are rising and foreclosures are now at twice the rate of a year ago.

A downward spiral in house prices would cause a fall in household wealth and in the capital of financial institutions, potentially resulting in a deeper and longer recession than any seen in the past several decades.
Now is the time for policy action to forestall such a house price collapse.
---
A key cause of the present slowdown and potential recession was not a tightening of monetary policy but the bursting of the house-price bubble
The Fed therefore will not be able to end the recession as it did previous ones by turning off a tight monetary policy.
Martin Feldstein, Wall Street Journal, February 20, 2008
If a recession does occur, it could last longer and be more painful than the past several downturns because of differences in its origin and character. The recessions that began in 1991 and 2001 lasted only eight months from the start of the downturn until the beginning of the recovery. Even the deeper recession of 1981 lasted only 16 months.
But these past recessions were caused by deliberate Federal Reserve policy aimed at reversing a rise in inflation. In those cases, the Fed increased real interest rates until it saw the economic slowdown that it thought would move us back toward price stability. It then reversed course, reducing interest rates and bringing the recession to an end.
In contrast, the real interest rate in 2006 and 2007 stayed at a relatively low level of less than 3%. A key cause of the present slowdown and potential recession was not a tightening of monetary policy but the bursting of the house-price bubble after six years of exceptionally rapid house-price increases. The Fed therefore will not be able to end the recession as it did previous ones by turning off a tight monetary policy.
Full text here - or here or here.
---
Is the US heading into a recession? New Economist, Stephen Roach, James Grant, Martin Feldstein
RECESSION 2008 » DEPRESSION 2009, Aubie Baltin
Aubie Baltin
House Prices - Monetarism
---
Morgan Stanley has issued a full recession alert for the US economy,
warning of a sharp slowdown in business investment and a
"perfect storm" for consumers as the housing slump spreads.
Ambrose Evans-Pritchard, Daily Telegraph 12/12/2007
In a report "Recession Coming" released today, the bank's US team said the credit crunch had started to inflict serious damage on US companies.
---
Wake up to the dangers of a deepening crisis
The odds now favour a US recession that slows growth significantly on a global basis.
There is the risk that the adverse impacts will be felt for the rest of this decade and beyond.
Lawrence Summers, FT November 25 2007
---
In 1929, days after the stockmarket crash, the Harvard Economic Society reassured its subscribers: "A severe depression is outside the range of probability".
In a survey in March 2001, 95% of American economists said there would not be a recession, even though one had already started.
---
---
The US consumer is on the precipice of experiencing the first recessionary phase since 1991
– the last time we had the combination of punishingly high energy prices, weakening employment, real estate deflation and tightening credit conditions.
Kronkursförsvaret var 1992
David Rosenberg, chief North American economist for Merrill Lynch, FT November 14 2007
More easing by the Federal Reserve is likely. Much more. We would not be surprised to see Fed funds go as low as 2 per cent.
Comment by Rolf Englund: Ahh, that is why he is writing this. That is what Merril Lynch wants now.
In the housing market, September was a watershed. Builders cut housing starts to a decade-low 1.19m (annualised rate), and there are still 4.4m unsold homes for sale, 16 per cent more than a year ago. This points to sustained deflation pressure and lower sales volumes. Housing starts could be forced as low as 800,000 to clear the market.
Housing is a $23,000bn asset class, but this market is going to be under pressure for years and the deepest retrenchment from the negative wealth effect has yet to be felt by consumers.
*
---
What masquerades as the sharing of risk is in fact a system malfunctioning, with the potential to undermine the integrity of the financial system. Sharing risk can under certain circumstances be inherently destabilising.
One person who would have had a field day with this discussion is Hyman Minsky, the US economist who died in 1996 and whose writings have recently enjoyed a renaissance.
One of his contributions is the financial instability hypothesis – a theory about the impact of debt on the financial system. In contrast to much of modern macroeconomics, Minsky treats banks and investors as the most important economic actors.
Wolfgang Münchau, FT 23/4 2007
---
A Minsky Meltdown in the most important asset in most Americans' asset portfolio is not a minor matter.
Paul McCulley at Johan Mauldin 12/3 2007
---
The Bank Credit Analyst's Latest Thinking
As you know, BCA has maintained all year that a recession was not the most likely scenario, and that the US economy could surprise on the upside. As usual, they were right on.
However, in their latest report for November, the editors take a more cautious stand in their outlook:

"The U.S. economy will be sluggish in the next few quarters as the housing downturn grinds on, consumers retrench and businesses remain reluctant to invest. It would not take much in the way of additional negative shocks to tip the economy into recession... Even though recession should be avoided, the outlook is fraught with uncertainty."

This language is definitely more cautionary than in previous months. This is primarily because the editors believe the housing slump is far from over, and I agree.
While their most likely scenario is that we avoid a recession, they are quick to add in this latest report that it is possible that housing woes could lead to a further slump in consumer confidence, and therefore spending, which could tip the economy into a mild recession sometime next year.
John Mauldin 2007-11-06
---
The only silver lining so far has been that these adjustments to the US currency have been orderly - declines in the broad dollar index averaging a little less than 4% per year since early 2002. Now, however, the possibility of a disorderly correction is rising - with potentially grave consequences for the American and global economy. A key reason is the mounting risk of a recession in America.
Stephen S. Roach 2007-10-22
---
The dollar has finally begun its long overdue correction.
Its recent decline is just a prelude to the much more substantial fall needed to shrink the US current account deficit
Martin Feldstein, FT October 15 2007
---
The United States Heads for Recession
Global Rebalancing
John H. Makin, American Enterprise Institute, September 26, 2007
First, as the Fed acknowledged on August 17 when it cut its discount rate from 100 basis points above the federal funds rate to just 50 basis points above it, "Financial market conditions have deteriorated and tighter credit conditions and increased uncertainty have the potential to restrain economic growth going forward."
The second major event spurring the Fed's transformation from concerned about inflation to fighting recession was the annual late-summer economic symposium at Jackson Hole, Wyoming.
Two major themes emerged from the impressive set of research papers presented at Jackson Hole.
The first, featured in a paper by Edward Leamer of UCLA, reminded the participants--including Chairman Ben Bernanke--who listened carefully to all of the presentations that over the last half century every housing downturn comparable to the magnitude of the one currently underway in the United States has translated into a U.S. recession.
Another paper on housing and consumer behavior by John Muellbauer of Oxford University presented convincing evidence that it is credit market problems associated with housing weakness, not necessarily wealth losses, that can severely depress consumption.
The Northern Rock episode underscored how quickly things could deteriorate in today's nervous credit markets and probably softened central banks' determination to emphasize moral hazard problems over the need to accommodate financial institutions.
The next six months will show how well the world economy and the U.S. economy can perform without a strong contribution from U.S. consumption growth.
The adjustment process--global rebalancing--will include continued dollar weakness and a fall in U.S. consumption, invariably a sufficient condition for a U.S. recession.
Spain's housing sector is due for a sharp correction.
The global economy is achieving a much-sought rebalancing away from dependence on U.S. demand growth and large U.S. trade deficits and toward more dependence on global demand growth and lower U.S. external deficits. That said, the process may not be as painless as some have imagined.
---
The dominoes are toppling.
What began as a credit crunch has turned into a dollar crunch.
We are witnessing a run on the world's paramount reserve currency,
an event that occurs twice a century or so, and never with a benign outcome.
Ambrose Evans- Pritchard, Daily Telegraph 1/10 2007
The US dollar has fallen through parity against the Canadian dollar and
plummeted to all-time lows against a basket of currencies.
This is dangerous. None of the mature economic blocs seems able to take the strain, let alone step in to restore order.
Ultimately, Europe and Japan are in worse shape than the US.
Until now, the euro has served as the "anti-dollar", the default choice for Asians and petrodollar powers wary of US assets. This cannot last.
A rate of $1.43 (it was 83 cents in 2000) will combine, after a one-year lag,
with deflating property bubbles in the Club Med bloc to cause a crisis in 2008.
It will then become clear that the needs of the Germanic and Latin zones are incompatible and
that a coin with no treasury, debt union, or polity to back it up cannot displace the dollar — if it survives at all.
French President Nicolas Sarkozy is in guerrilla warfare against the ECB, threatening to invoke Maastricht Article 109, which gives EU politicians power to set a fixed exchange rate (by unanimity) or a "dirty float" (by majority).
am not sure that the Bernanke Fed will move fast enough, given fears of moral hazard, or, indeed, whether the rate cuts on offer are enough to head off an insolvency crisis. The chart of S&P 500 looks eerily similar to October 1987, the last time a tumbling US dollar set off a crash.
Euron spricker när dollarn faller
Rolf Englund i EU-krönika i Nya Wermlands-Tidningen 2001-01-08
---
The possibility of a disorderly correction /of the dollar/ is rising
— with potentially grave consequences for the American and global economy.
STEPHEN S. ROACH, New York Times, September 25, 2007
A key reason is the mounting risk of a recession in America.
So far, the dollar's weakness has not been a big deal. That may now be about to change. Relative to the rest of the world, the United States looks painfully subprime. So does its currency.
---
Let me cover the big picture.
I do think we're approaching the end of the world as we know it…
I think there is such thing as the business cycle.
Doug Casey, september 26, 2007
It exists. And we've had the longest expansion - and the strongest expansion - in the world history. But we're at the end of a 25-year boom. It's gone on more than a full generation now. And I'll tell you how it's going to end: It's going to end with a depression, and not just a depression; not just another Great Depression; it's going to be the Greater Depression.
What's a depression, incidentally? It's a period of time when distortions and misallocations of capital are liquidated; that's called a depression.
*
Beware moral hazard fundamentalists
The world has at least as much to fear from a moral hazard fundamentalism that precludes actions that would enhance confidence and stability as it does from moral hazard itself.
Lawrence Summers, Financial Times September 24 2007
---
Federal Reserve cut interest rates by an aggressive 50 basis points.
If low interest rates cause foreign investors to lose confidence in the US currency
then the chance of recession in the world's largest economy will rise.
Financial Times editorial 22/9 2007
What will worry Mr Bernanke is the rise in long-term interest rates – yields on Treasury bonds maturing in 10 or 30 years rose – and a sharp 1.5 per cent fall in the dollar's effective exchange rate in the space of only a few days.
A decline in the dollar would be welcome if it was slow,
but if foreign investors anticipate inflation and start to dump some of their $12,000bn in US debt, it could turn into a rout.
In the worst case the Fed would lose some control of monetary policy, with long-term rates responding to foreign selling no matter what the Fed did at the short end,
and the economy plunged into recession.
---
Questions and answers on the debt crisis
Martin Wolf, September 5 2007
---
Danger: Steep drop ahead
Even if the credit crunch passes without a major catastrophe,
the prices of stocks, bonds and real estate have a long way to fall.
By Jeremy Grantham, CNN/Fortune September 5 2007, 9:27 AM EDT
(Fortune Magazine) -- Credit crises have always been painful and unpredictable.
The current one is particularly hair-raising because it's occurring amid the first truly global bubble in asset pricing.
---
Is A Subprime Recession Inevitable?
John Mauldin 28/8 2007
---
Recession? What Recession?
Only two recessions (1990-91 and 8 months in 2001) in the United States over the past 25 years;
over the previous 35 years there were eight.
Bob Pisani 24 Aug 2007
This "great moderation" of the economy has been explained many ways: luck, structural changes in the economy, etc., but in the end even the cautious NBER admits that improved policies on the part of those steering the economy are the likely reason we have avoided recessions:
"This hypothesis has obvious appeal. In our own work, we have found that monetary policymakers have been guided by a better understanding of the economy in recent decades and have largely avoided episodes where they first pursued expansionary policies that caused inflation to rise and then pursued extremely tight policies to bring inflation back down."
Nice list of recessions in full text
---
Over the past 20 years major financial disruptions have taken place roughly every three years
Financial crises differ in detail but, just as there are plot cycles common to literary tragedies, they follow a common arc.
Lawrence Summers, Financial Times August 27 2007
The 1987 stock market crash; the Savings & Loans collapse and credit crunch of the early 1990s; the 1994 Mexican crisis; the Asian financial crises of 1997 with the Russian and Long-Term Capital Management events of 1998; the bursting of the technology bubble in 2000; the potential disruptions of the payments system after the events of September 11 2001 and the deflationary scare in the credit markets in 2002 after the collapse of Enron.
Sure enough the problems of subprime mortgages – initially seen as a confined issue – went systemic as the market began to doubt the creditworthiness of even the strongest institutions and rushed to buy US Treasury debt.
First there is a period of overconfidence, rising asset values and growing leverage as investors increase their faith in strategies that have enjoyed a long run of success.
Second, there is a surprise that leads investors to seek greater safety. In the current case it was the discovery of huge problems in the subprime sector and the resulting loss of confidence in the ratings agencies.
Third, as investors rush for the exits, the focus of risk analysis shifts from fundamentals to investor behaviour. As some investors liquidate their assets, prices fall; others are in turn forced to liquidate, further driving prices down. The anticipation of cascading liquidations leads to more liquidations creating price movements that seemed inconceivable only a few weeks before. The reduced availability of credit then has a negative effect on the real economy.
Eventually – sometimes in a few months as in the US in 1987 and 1998; sometimes over a decade, as in Japan during the 1990s – there is enough price adjustment that extraordinary fear gives way to ordinary greed and the process of repair begins.
While it is too soon to draw policy lessons, we can highlight questions the crisis points up. Three stand out.
First, this crisis has been propelled by a loss of confidence in ratings agencies as large amounts of debt that had been very highly rated has proven very risky and headed towards default.
Second, how should policymakers address crises centred on non-financial institutions? A premise of the US financial system is that banks accept much closer supervision in return for access to the Federal Reserve's payments system and discount window. The problem this time is not that banks lack capital or cannot fund themselves.
Third, what is the role for public authorities in supporting the flow of credit to the housing sector?
I am among the many with serious doubts about the wisdom of the government quasi-guarantees that supported the government-sponsored entities, Fannie Mae, the Federal National Mortgage Association, and Freddie Mac, the Federal Home Loan Mortgage Corp , as they have operated in the mortgage market. But surely if there is ever a moment when they should expand their activities it is now, when mortgage liquidity is drying up.
It is downright hilarious to hear so many now clamoring for the return of Fannie Mae and Freddie Mac to act as "white knights" to save a very troubled mortgage industry
when they're the ones that started it all about five years ago with the first tidal wave of mortgage backed securities and derivatives.
Tim Iacono, August 9, 2007
---
The central banks have been forced to pump in billions of dollars to oil the wheels of lending.
But what happened in previous financial crises, and what are the lessons for today?
BBC 26/8 2007
Nice list of financial crises in full text
---
The Forthcoming Fed Rate Cuts May Not Prevent a US Hard Landing
Nouriel Roubini, Aug 17, 2007
---
The Fed can indeed be accused of being a serial bubble-blower.
But this is not because it has been managed by incompetents.
It is because it has been managed by competent people responding to exceptional circumstances.
Martin Wolf, August 22 2007
---
The "core" U.S. economy is doing fine.
That is, if you exclude consumer spending, business capital goods spending and housing – almost 85% of U.S. real GDP – the outlook is rosy
inasmuch as exports will surely surge because of the strong economic growth in the rest of the world. Other than the fact that exports are only about 11-1/2% of real GDP, a record high, there are other problems with depending on the rest of the world to be America's economic locomotive.
Paul L Kasriel, at The Market Oracle, 14/5 2007
Speaking of households, even though they are cutting back on their real spending, they seem to be tapping their credit cards more now that their home ATMs are draining – i.e., home equity growth is slowing – and mortgage lenders are requiring more than a pulse to qualify for a loan. Chart 4 speaks to this point. Is this an act of desperation?
Economist Paul Kasriel at the Northern Trust has come up with
a recession indicator that has called six consecutive recessions with no misses
and no false positives dating back to 1962.
Michael Shedlock 30/3 2007
---
NASD - the brokerage regulator - said that the amount of debt that investors took on to buy securities, known as buying "on margin," had soared to a record $321.2 billion
That topped the previous record of $299.9 billion in March 2000, at the peak of the last bull market in stocks. Margin debt has more than doubled from $141.3 billion in January 2003
Reuters, 10/4 2007
NASD has long served as the primary private-sector regulator of America's securities industry. We oversee the activities of nearly 5,100 brokerage firms, about 171,000 branch offices and more than 662,000 registered securities representatives. In addition, we provide outsourced regulatory products and services to a number of stock markets and exchanges.
NASD Home page
---
Interest rates, Recession or Depression?
Aubie Baltin 2007-04-05
Highly recommended
Interest rate is just another word for price. It is the price to borrow money and its price is supposed to be determined exactly the same way as the price of any other commodity, product or service is - through the interaction of supply and demand.
However, unlike every other product, commodity or service, interest rates and money do not operate in a Free Market. Interest rates and the supply of money are manipulated (controlled) by the Fed.
They do this by controlling the amount (supply) of money that is available in the banking system through their Open Market Operations (buying & selling treasury bonds in the open market) and by changing their deposits that they hold with their individual member banks, directly affecting their reserves and thus their ability to lend.
They also increase the money supply the good old fashioned way, by printing it
So why hasn't IT happened yet?
Aubie Baltin 20/9 2006
---
Recession in 2007?
Greenspan's recession comment opened the floodgates for the use of the "r word."
John H. Makin, 21/3 2007
Currently, markets are expecting the Fed's Open Market Committee to cut the federal funds rate by a total of 50 basis points, to about 4.75 percent, by the end of this year.
Thus far, the Bernanke Fed has not been forced to confront a situation in which its goal to slow inflation conflicted with its desire to avoid a rapidly escalating chance of recession.
The awkward reality is that, at least in the past, the Fed has only been moved away from a conservative stance by extraordinary market volatility and attendant systemic risk that force the Fed to ease, as it did after the Long-Term Capital Management crisis in 1998 and during the deflation scare of 2002–03.
The strength of the Fed's desire to lower inflation may be tested by markets in coming months.
A brief recession may be a small price to pay to retain the low and stable inflation required for long-run, sustained growth and wealth creation.
Bernanke's Sophie's Choice:
"The housing market or stock market Mr. Bernanke.
You may only be able to try and save one..."
Brady Willett, May 18, 2006
---
Det finns en myt, som gärna kolporteras också av journalister, att ingen varnar för en kommande krasch.
När kraschen väl är ett faktum skrivs artiklar och böcker om att ingen varnade för det uppenbara.
Det finns ALLTID varningar.
Problemet är inte att "alla" är efterkloka, utan att ingen vill lyssna.
Dan Lucas, DN Ekonomi 19/3 2007
Börsen nådde sin högsta nivå i början av september 1929 då Dow Jones Index (DJI) stod i 381,17.
Det skulle dröja till 1954 innan börsindex passerade nivån från september 1929.
Under 1987 oroades allt fler av en försvagning av den amerikanska dollarn, ökande handelsunderskott och stigande inflation. När den amerikanska centralbanken, Federal Reserve, höjde räntan för första gången på tre år utlöstes fallet.
En valutakris i Sydostasien hösten 1997 fick efterverkningar på börser runt om i världen.
I mars 2000 började fallet, först som en pyspunka, därefter i allt snabbare takt.
Rolf Englund på Nationalekonomiska Föreningen januari 1990:
källa: Ekonomisk Debatt 1990, nr 3, sid 327 ff
Vi ser också att affärsbankernas lånestock i utländsk valuta är nästan lika stor som den är i svenska kronor. Lånen i utländsk valuta hos affärs- och sparbankerna är tillsammans nästan 300 miljarder. Det är mer än dubbelt så mycket som sparbankernas utlåning i svenska kronor. Jag föreställer mig att de som har lånat upp dessa 300 miljarder inte avser att ha dessa lån när nästa devalvering kommer.
Hela texten här
Sänt till Carl Bildt 90-11-02
Utlagt på Internet 96-10-29
Rolf Englund 1990 11 02
Mycket förtroligt Eyes Only
Marshall-hjälpen och nästa svenska devalvering
Med dagens kurs SEK/USD på cirka 5:60 uppgick alltså den totala Marshall-hjälpen till 382 miljaaarder svensk kronor.
Enligt dagens Dagens Industri (2/11) uppgår Sveriges utlandsskuld till 454 miljaarder kronor:
Min tes är nu att om det skall devalveras så är det av avgörande strategisk betydelse - ekonomiskt och politiskt - att devalveringen kommer före valet.
Hela texten här
Det är den stora utlandsskulden, snarare än budgetunderskottet eller frånvaron av konkreta besparingar inom sjukförsäkringen, som framtvingar en högre ränta i Sverige än i omvärlden. Riksbanken måste se till att företag och andra som lånat i utlandet bibehåller sina utlandslån.
Rolf Englund på DN Debatt 26/8 1992
Det kommer inte att vara möjligt att länge till bibehålla den rekordhöga svenska realräntan. Om regeringen inte låter kronan flyta är risken alltmer överhängande för att marknaden kommer att se till den saken. Det blir genant för de ansvariga i nuvarande och tidigare regeringar men är ingen nationell katastrof.
Hela texten här
Vi har listan!
De som varnade för kronkursförsvaret
---
"Gardera med kryss och tvåa - grundtips etta"
USA är visserligen på väg in i en svagare konjunktur, men det mesta talar fortfarande för att det blir en mjuklandning.
Sverige har hittills haft strålande tider, som ser ut bestå ännu ett tag.
Den senaste tidens fall på Stockholmsbörsen ser därför ut att bli en övergående episod
Snart kommer det hela att mest likna ett hack i en uppåtgående kurva.
Ändå är det bättre att vara förberedd på ett omslag till det sämre, som förr eller senare måste komma.
Johan Schück, DN 10/3 2007
Klicka på grafik börsutvecklingen
---
Equities look overvalued,
but where is the turning point?
Martin Wolf, Financial Times, March 7, 2007
---
David Tice, whose bet against U.S. stocks the past four years punished his Prudent Bear Fund, said that the market is headed for a drop of as much as 50 percent.
Herald Tribune 12/3 2007
"We see the first crack," Tice said. His Prudent Bear Fund, based in Dallas, is always positioned for a decline. "I've never been more confident in our economic theories."
---
Could it really have arrived? Are global stocks about to tank in an all consuming way?
Indeed, is this the moment Albert Edwards has been waiting for since 1996?
Of course, Edwards is perhaps London's best-known doom-monger when it comes to stocks.
FT Alphaville Monday, March 5th, 2007
For Edwards, Dresdner Kleinwort's notoriously bearish global strategist, this truly is the moment.
/His 'Ice Age' thesis is that the US market is locked into a long-term trend of declining p/es that could easily continue until the ratio reaches ten or lower. Factor in a possible recession – which could reduce earnings by around 20% – and he believes that the S&P could fall by about 40% from current - 04.08.2006 - levels./
Here's what he told Dresdner clients this weekend:
"We believe the long and widely awaited equity correction is upon us. The sharp deterioration in the US economic dataflow should extend that loss below key support levels. We expect government bonds to be the safe haven, especially as risk assets generally are likely to suffer as the Yen carry trade now unwinds."
---
Det vi nu ser under första kvartalet i år är en toppformation,
som sedan bör följas av en sidlänges rörelse på hög nivå
innan det hela troligen bär i väg nedåt
under andra halvåret i år.
Di.se:s krönikör Ingemar Carlsson 5/3 2007
---
Baisse på börsen
Stockholmsbörsen backar rejält i börsöppningen på måndagen.
Efter femton minuters handel hade index fallit 3,2 procent.
DIse 5/3 2007
---
Markets fall, sometimes very sharply.
By 3:02 it had dropped to 12,089.02 – off more than 540 points for one of the worst days in history.
John Authers, FT Investment Editor, February 28 2007
When did the much-expected wave of risk aversion of 2007 finally break? It can be timed with precision. At 2:57 on Tuesday afternoon in New York, the Dow Jones Industrial Average stood at 12,346.33 – off about 2 per cent for a day on which traders had been spooked by 9 per cent falls in Chinese stock indices overnight.
---
---
Stephen Roach:
Jag reverserar nu min strukturellt optimistisk syn på världen som jag antog förra våren.
DI/Nyhetsbyrån Direkt 2007-02-27
---
The optimists will be right until they are wrong.
Wolfgang Munchau, FT 11/12 2006
---
Det är svårt att hitta rationella skäl för en total panik.
Bengt Carlsson DI 2007-02-27
---
Strategists at 12 of the biggest Wall Street firms agree that U.S. stocks will rally next year (2007).
The last time Wall Street unanimously predicted an advance for the S&P 500, in 2001,
preceded a 33 percent slump over the next two years.
The U.S. economy fell into recession and the Sept. 11 attacks battered financial markets.
Bloomberg 18/12 2006
---
Lou Dobbs - The War on the Middle Class - Book Introduction
George W. Bush claimed through two presidential campaigns that America has become the "ownership society." I couldn't agree more. America has become a society owned by corporations and a political system dominated by corporate and special interests, directed by elites who are hostile -- or at best indifferent to -- the interests of working men and women of the middle class and their families.
November 20, 2006
http://www.amazon.com/exec/obidos/ASIN/0670037923/bullnotbull-20
---
In terms of the euro the Dow Jones's 60 point plus decline this week
translates into the equivalent of a 320 point decline when measured in euros.
Peter Schiff, 24/11 2006
In fact, year to date the Dow is only up by about 3.5% when priced in euro's, compared to its 14.5 % advance when measured in depreciating U.S. dollars.
---
Dr Kurt Richebächer:
Past recessions were all triggered by true monetary tightening, hitting both the economy and the markets.
The current economic downturn is unfolding against the backdrop of unmitigated monetary looseness

---
Proffset tror på Stockholm
DI 24/11 2006
Han ser inte några större risker för den svenska börsen 2007 men tycker att den svenska kronan rör sig överraskande mycket och det skulle i värsta fall, tillsammans med en högre ränta, kunna hota det positiva scenariot.
En övergång till euro skulle därför vara oerhört positivt för den svenska aktiemarknaden, enligt Rolf Elgeti.
---
The Dow Jones Industrial Average, adjusted for inflation, is down 17 percent from its all-time high on January 14, 2000.
It would need to rise another 2,378 points to set a new record, adjusted for inflation.
Center on Budget and Policy Priorities, 5/10 2006
---
"Det är mycket annat som inverkar på om anställningarna skall öka, däribland konjunkturutvecklingen. En väntad nedgång i USA blir märkbar också i svensk ekonomi."
Att få ut fler som aktivt söker arbete är förhållandevis enkelt.
Svårare är att få arbetsgivare att anställa fler, utöver vad de ändå hade gjort
Johan Schück, DN Ekonomi 23/9 2006
---
So why hasn't IT happened yet?
Thus far the Fed has succeeded in playing Fire Chief and kept pouring liquidity into the system.
But the Fed CAN NOT keep the money and credit spigots wide open indefinitely:
All they are doing is delaying the inevitable, not curing it.
Aubie Baltin 20/9 2006
---
In a few years, the low bond yields of recent years will look like an anomaly rather than the norm.
Globalisation is more likely to push real interest rates and inflation higher than lower in the next few years.
Joachim Fels, FT, 21/9 2006
The writer is managing director and chief global fixed income economist at Morgan Stanley
---
The aging of the boomer generation should "severely cut U.S. stock values in the near future,"
reducing the P/E ratio of the S&P 500 index by more than half over the next decade.
MarketWatch 29 December 2014
That's the bracingly bearish conclusion of a report published this month by three researchers at the Federal Reserve Bank of San Francisco—though the report relies heavily on a demographic metric that leaves lots of room for debate.
The more urgent question, in many economists' minds, is whether the aging of the population will be a drag on economic growth overall,
as has already been a problem in Western Europe and Japan. That's a serious issue—one tackled by MarketWatch retirement guru Robert Powell in a recent column.
But it's one that the Fed paper, with its narrow focus on the M/O model, leaves for another time.
---
"Baby boomers with 80pc of UK wealth shouldn't feel guilty about younger generations' problems"
80 pc of the Britain's net personal wealth is owned by people aged over 50
while younger folk often have no savings, substantial debts and little hope of becoming homeowners any time soon.
Daily Telegraph, December 24th, 2011
---
The baby boomers, those born between 1946 and 1970, were the richest, and largest, generation that the world has ever seen.
Unsurprisingly, they created a truly golden age for housing, auto sales and overall consumer demand.
Mr Paul Hodges, Letter FT, 6 september 2011
---
Babyboomgenerationen kan komma att hålla ned börskurserna i två decennier framåt.
Det spås bli följden när en åldrande befolkning säljer sina aktieandelar för att finansiera pensionen.
Varningen kommer från Federal Reserve Bank of San Francisco skriver bloomberg.com.
DI 24 augusti 2011
Förhållandet mellan aktiekurs och vinst trefaldigades för de amerikanska börserna åren mellan 1981 och 2000.

Under samma period nådde babyboomgenerationen toppen av sin arbetsföra ålder. Båda kurvorna har dalat sedan dess.
Americans born between 1946 and 1964 are beginning to retire as the U.S. stock market is still recovering
from the financial crisis that began in 2007 with the collapse of the subprime-mortgage market.
Bloomberg 22 August 2011
The timing is "disconcerting" and, since stock prices have been closely tied to demographic trends in the past half century, "portends poorly for equity values," adviser Zheng Liu and researcher Mark Spiegel wrote in a paper released by the bank today.
Boomer Retirement: Headwinds for U.S. Equity Markets?
By Zheng Liu and Mark M. Spiegel
---
Vilket börsfall klarar en genomsnittlig pensionssparare utan att gripas av panik?
Valfrihet har varit honnörsordet, men extrem aktieexponering har blivit effekten.
Peter Malmqvist, DN Debatt 14/2 2011
PPM-systemet förklarar en del av rörligheten, men ännu viktigare är den ökade valfrihet som utvecklats inom det privata pensionssparandet. I stället för att placera i livbolag med professionell förvaltning och balanserad risk, väljer svenskar numera så kallade fondförsäkringar, vilket i praktiken medfört att pengarna placeras i aktiefonder.
Mitt förslag är att risk skall beskrivas som det största kursfallet under ett år som en sparprodukt råkat ut för under den senaste tioårsperioden. För exempelvis placeringar på Stockholmsbörsen skulle den siffran i dag bli minus 53 procent, att jämföra med exempelvis index för svenska statsobligationer, där det största kursfallet stannat på 1,6 procent. Det är denna maximala aktierisk som sparare riskerar att drabbas av om de har oturen att gå i pension det år börsen kraschar.
---
According to IMF calculations, the credit crunch, bank bailouts and recession only account for 14 per cent of the expected increase in Britain's public debt burden.
The remaining 86 per cent of the long-term fiscal pressure is caused by the growth of public spending on health, pensions and long-term care.
2020 the majority of the baby-boomers will be retired.
Anatole Kaletsky, The Times June 2, 2010
The book The Pinch by David Willetts, the Tory Minister for Universities, and its subtitle conveys his main message with his characteristic clarity and directness: "How the baby-boomers took their children's future and why they should give it back."
Mr Willetts shows how the overwhelming size of the baby boom generation, in comparison with the generations just before and after, allowed people born in the two decades after VE-Day not only to dominate culture, fashion and morality, but also to accumulate wealth, monopolise employment and housing and reduce social mobility for the next generation.
---
Nearing Retirement and Unemployed or Underemployed
One of the groups seriously impacted by the great recession is the "pre retirement" generation - currently the "Baby Boomers" - the workers between the ages of 45 and 64.
CalculatedRisk 13/3 2010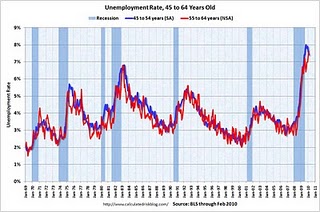 The unemployment rate for these age groups hit an all time high during the great recession (highest since WWII).
Michael Winerip at the NY Times has a story about the plight of several "Boomers" who he has tracked for the last year: Time, It Turns Out, Isn't on Their Side
---
As retiring Baby Boomers flee to safer investments, some analysts fear there will be too many stocks and too few investors. But, a lot depends on how many of the more than 70 million Boomers can really afford a more conservative investing style, as they try to recover from a lost decade for the stock market
CNBC 1 Feb 2010
Nearly half of the drop in household wealth since 2007 can be ascribed to a 48 percent plunge in homeowners' equity. And, though home equity has edged higher since the first quarter of 2009, it still remains in a range last seen in the second half of 1999. As recently as 2008, few expected homeowners' equity to sink to levels last seen 10 years ago. The $6.2 trillion of homeowners' equity in the third quarter of 2009 had sunk by $7.25 trillion from its $13.5 trillion zenith in the first quarter of 2006.
Houseprices
About 27 percent of the household sector's loss of wealth since 2007 stemmed from a $3.4 trillion, or 22.7 percent dive in the market value of stocks and mutual funds directly held by households. Boomers have fresh memories of how the market value of equities and mutual funds was down by an even deeper 44% from its 2007 level as recently as the first quarter of 2009. A 38 percent run-up by the market value of equities and mutual funds between the first and third quarters of 2009 quickly restored $3.2 trillion of household wealth.
Full text
---
The crisis and its impact on pension plans have focused attention on the baby boomers,
typically 20-25 per cent of the populations of western economies,
who are now starting to head off into retirement.
George Magnus, FT August 13 2009
Since the boomers, and baby boomer women especially, were the backbone of the economic expansion of the last 25 years, we may lose a growth driver of great significance. Expected changes in the numbers of people of working age and of those over 65 underlie a unique shift in age structure that may result in weaker economic growth and growing financial stress for individuals and the state.
---
Although it is widely known that our Social Security and Medicare Programs are threatened by these demographic trends, there are many who believe that they have accumulated sufficient private wealth to fund their retirement.
But this may not be so. The same crisis that strikes the public pension programs can overwhelm private pensions as well. Since there will not be enough workers earning income, there will not be enough savings generated to purchase the assets the retirees must sell to finance their retirement.
Jeremy Siegel, Wall Street Journal, September 20, 2006
The inter-generational clash between the interests of those who have already grabbed the rewards of postwar prosperity and the young people now expected to support them in retirement.
Philip Stephens, Financial Times 20/2 2007
---
"Please, Proceed to the Nearest Exit,"
With such pretty pie charts predicting fair winds, they feel secure aboard the "USS Stocks for the Long Term," chanting the "Buy-n-Hold" mantra should they ever feel a tinge of concern. Yet, when this modern marvel collides with the iceberg of science and history, the pain will cause them to begin searching for what went wrong.
Doug Wakefield, September 14, 2006
Investors are not even aware of their incapacity to take action to prepare for a sharply declining market.
Herding is a natural instinct
Doug Wakefield, August 25, 2005
---
Real Estate: Good News for People Who Love Bad News
the stock market follows the NAHB Housing index nearly perfectly, with a one-year lag
Michael Nystrom, September 14, 2006
---
Financial Armageddon:
Protecting Your Future from Four Impending Catastrophes
Crash Proof: How to Profit from the Coming Economic Collapse
Time 30/3 2007
Among the doom crowd, Greenspan's decision to slash interest rates as the stock market plummeted in 2001, which fueled the last leg of the real estate boom, is seen as his gravest error.
---
The reckless masters of "economic armageddon"?
There have been many books written about the financial crisis: What caused it, who's to blame and how it could have – and should have – been prevented
This new one, "Reckless Endangerment: How Outsized Ambition, Greed and Corruption Led to Economic Armageddon," lives up to its lengthy title and gets deep into the weeds of who did what, when and how.
In short, Gretchen Morgenson and Joshua Rosner name names and connect the dots.
CNN 27 May 2011 with nice pic
---
Armageddon hits US housing
House prices to fall, Fed to cut rates in 2007
Lombard Street Research, Gabriel Stein, 26/3 2007
Sales of new homes fell sharply in February after plummeting in January.
The overhang of unsold homes jumped to a 17-year high of 8.1 months.
As long as this overhang remains, builders are unlikely to build more meaning that the housing market correction has further to go.
This situation will remain until prices of new homes fall in earnest or until the Fed begins to cut interest rates.
---
Is this the subprime apocalypse?
(Or is it just a scary story?)
CNN 13/3 2007
---
The problem, as I laid it out in my March 9 column,
is that every day that goes by without letting the steam out of the global financial market -- brought to a boil by an excess of cheap capital and even cheaper debt -
raises the odds of a financial market Armageddon.
Jim Jubak 13/3 2007
I say Armageddon is in the eye of the beholder. To me, if a 10% drop is a correction, a 30% fall in stock prices is Armageddon. And before you pooh-pooh that number as just another crash, remember that if Armageddon is driven by the debt markets, the damage would be worse on that side than in the stock market.
---
The United States, the world's biggest debtor, and
China, the world's biggest creditor, each passed major statistical milestones this month.
In the second quarter, the Commerce Department announced this month,
the United States paid more to its foreign creditors than it took in from its overseas investments -- the first time that's happened in 91 years. The gap was relatively small, $2.5 billion for the quarter, when measured against a $13 trillion economy, but it was still a milestone.
At the end of September, China's foreign-exchange reserves topped $1 trillion.
Jim Jubak, CNBC 30/9 2006
---
The Fed has just voted for stagflation, a dreadful mix of slow-to-no growth and high inflation
Jim Jubak, CNBC 22/8 2006
---
The NASDAQ is Crashing. Have You Noticed?
Since the NDX topped at 1,721 on May 8th, the NASDAQ 100 has crashed 15.94 percent. It is down nearly 18 percent since its January 11th top
by Robert McHugh July 30, 2006
---
In an attempt to avoid the consequences of the late-1990s stock mania, the Fed managed (after 13 rate cuts and several tax cuts) to precipitate a bubble in housing. That bubble, in my opinion, is a far more dangerous problem than the stock mania was, because of all the leverage involved
Bill Fleckenstein, CNBC 3/7 2006
The Federal Reserve precipitated, aided, abetted and cheered the largest (by dollar volume) stock mania in the history of the world. That mania exhausted itself in 2000. The exhaustion was not caused by the Fed tightening, contrary to what many folks believe, any more than the 1929 market break (and ensuing Great Depression) was caused by Fed tightening.
Manias end in exhaustion, though there are always coincident events surrounding the end of the move that get blamed for the decline. In both 2000 and 1929, higher interest rates were present, but they were not the cause. The preceding bubble was the cause of both the subsequent exhaustion and the ensuing bust.
In an attempt to avoid the consequences of the late-1990s stock mania, the Fed managed (after 13 rate cuts and several tax cuts) to precipitate a bubble in housing. That bubble, in my opinion, is a far more dangerous problem than the stock mania was, because of all the leverage involved -- and the damage that will eventually inflict on the financial system, in addition to consumers whose overspending ways will be throttled back as the housing mania unwinds.
Alan Greenspan and Asset Price Bubbles
---
Raising the spectre of stagflation BIS, the central bankers', bank highlighted the threats that now exist after global interest rates have been "unusually low for an unusually long time"
Chris Giles, Economics Editor, Financial Times, June 26 2006
---
Anything is possible in financial markets, but the probability that the plunge in asset prices that began just a month ago could really be over after such a short time — and with so little damage being done to personal fortunes and financial institutions — must surely be very small. Much more likely is that any recovery that may or may not develop in the next day or two will turn out to be a "dead cat bounce" — in market parlance a brief and illusory rebound, whose main effect is to lure over-eager investors back into the market and then quickly deprive them of their wealth.
Anatole Kaletsky, The Times 15/6 2006
---
"Dramatically lower interest rates 'transferred' the tech stock bubble to a real estate 'bubble,'
"The tide of liquidity further lifted all speculative boats, including small- and micro-cap stocks, commodities and emerging markets."
"Hedge funds now number 9,500 and are managing $1.3 trillion," Sonders says. "Their time horizons are often measured in minutes, not months, quarters or years like traditional institutions."
Charles Schwab's chief investment strategist Liz Ann Sonders,
San Francisco Business Time 15/6 2006
---
If you're a true pessimist you know a rally like that which began on June 13 doesn't really change anything.
It's just a trap, a fake to get you feeling good about stocks, so that the market can slam your portfolio again.
Jim Jubak, CNBC 16/6 2006
Pessimist's Scenario No. 1
Not much has changed. Despite all its saber-rattling, the Federal Reserve isn't really all that committed to fighting inflation to the death.
Pessimist's Scenario No. 2
The central banks raise interest rates until inflation cries uncle. But they overshoot and crush economic growth, too.
Pessimist's Scenario No. 3
The Federal Reserve raises rates a couple more times but then stops while the central banks of Japan and the European Union keep going.
---
Det går bra för Sverige just nu, med mer än fyra procents tillväxt. De nya BNP-siffrorna för årets första kvartal visar på en snabb tillväxt i ekonomin, som troligen fortsätter ett tag till.
Längre fram kan diskussionen om hur bra det just nu går för Sverige framstå som aningslös och oansvarig.
Johan Schück, DN 10/6 2006
Dollarkursen kommer, troligtvis, att falla i takt med att USA-konjunkturen försvagas. Det betyder att svensk export till de amerikanska och asiatiska marknaderna försvåras. Men följden skulle också bli en avmattning i Europa, där tillväxten är nära kopplad till utvecklingen på andra sidan av Atlanten. Sveriges ekonomi är numera tillräckligt robust för att klara enstaka motgångar. Däremot är det svårare att möta en situation där konjunkturen plötsligt försvagas, kronan stiger mot dollarn och priserna samtidigt skjuter i höjden.
---
A depression is probably inevitable this time.
The only serious question in my mind is whether it will be essentially deflationary in nature, as it was the case in the U.S. in the 1930s, or inflationary like in Germany in the 1920s Doug Casey, 13/6 2006
Is the Greater Depression really inevitable? How bad will it be? Is there another side to the argument? Can it be avoided?
I suppose it's not absolutely inevitable. Perhaps friendly aliens will land on the roof of the White House and present the government with a magic technology that can undo all the damage it's done. But we live in a world of cause and effect where actions have consequences. That being the case, I expect truly serious financial and economic trouble. And the government will make it vastly worse by trying to "do something" instead of recognizing itself as the cause and backing off. I don't see any way out.
What indicators should we watch for that might tell us it's about to get ugly?
Gold... Then there's the CPI itself--although I don't think it's very accurate, in that all the adjustments, exclusions, weightings and what-nots the government has insinuated into it over the years makes the CPI as much of a floating abstraction as the dollar itself. It's funny how the government plays with figures for fear of hurting confidence. They believe the economy rests mainly on confidence, which, ironically, in today's world, is true. Unfortunately, confidence can blow away like a pile of feathers in a windstorm--and we have a class-5 hurricane coming. If the economy were sound and people for some reason lost confidence, the currency and the banks would be unhurt, and the next day things would go back to normal. But that's not the world we live in. So, higher CPI numbers are another thing that could destroy confidence and supercharge the gold price. They're coming.
Higher interest rates, which we're already seeing, will inevitably burst the real estate bubble, which is floating on a sea of mostly adjustable-rate debt, a lot of it interest-only or even with negative amortization. Higher rates will also crush bonds and probably stocks. And they'll devastate the economy since everybody is deeply in debt. However, I feel the Fed will keep short-term rates--which are really the only ones they control--as low as possible for as long as possible. For one thing, they don't want a recession, which this time could snowball into the Greater Depression.
The biggest single problem, however, is that there are trillions of U.S. dollars outside of the U.S. Unlike Americans, foreigners have no reason to hold them. And at some point very soon, perhaps when the Fed finally hits the wall on its ability to raise rates, these overseas dollars are going to start flooding back home, while the products and titles to real wealth flow out of America. Therefore, when the trade deficit starts turning around--which most people will think is a good thing--that will be the real tip-off the game is over. Trillions coming back to the U.S. will skyrocket long-term interest rates and inflation. The dollar will go into freefall.
---
Svenskarna tömde sina fondkonton i maj. Totalt flödade 33 miljarder netto ut ur aktiefonder under den svarta börsmånaden. Samtidigt flödade 20 miljarder netto in i korta räntefonder.
DI 2006-06-09 Cecilia Aronsson
---
---
- Det behövs en anpassning där dollarkursen försvagas
Men denna förändring kan komma successivt. Sannolikheten för ett plötsligt dollarras har minskat, säger Stephen Roach.
Jag är optimist om Kina, som gradvis kommer att lägga om sin politik. Kinesernas långsiktiga intresse är bygga upp sitt eget land, inte att köpa amerikanska statsobligationer.
Johan Schück, DN 1/6 2006
Under flera år har Stephen Roach pekat på de växande globala obalanserna och varnat för en kommande krasch i världsekonomin. Han har nått stor uppmärksamhet, men hittills inte fått rätt.
- Det behövs en anpassning där dollarkursen försvagas, samtidigt som andra valutor stärks. Men denna förändring kan komma successivt. Sannolikheten för ett plötsligt dollarras har minskat, säger Stephen Roach.
Han tror att Kina och andra asiatiska länder kan ta över en del av USA:s roll som motor i världsekonomin. Men övergångsvis bör man vara beredd på en global avmattning, eftersom nedgången i den amerikanska ekonomin kan komma snabbt. Framför allt är det hushållen där som kan tvingas dra åt svångremmen, om huspriserna börjar sjunka på allvar.
- Riskbubblan måste spricka, även om allt inte behöver komma samma gång.
Jag är optimist om Kina, som gradvis kommer att lägga om sin politik. Kinesernas långsiktiga intresse är bygga upp sitt eget land, inte att köpa amerikanska statsobligationer, framhåller Stephen Roach.
---
I think there is real potential for a 10% to 25% decline over the next six months -- with the harsher end of the spectrum the more likely.
We had bear markets in 1949, 1953, 1962, 1966, 1970, 1974, 1978, 1982, 1987, 1990, 1994, 1998 and 2002.
This is sort of like one of those easy math tests that schools give fifth-graders.
What is the next likely number in this series?
Jon Markman, CNBC, 31/5 2006
---
Today we look at a very interesting set of ideas proposed by one William R. White of the Monetary and Economic Department of the Bank of International Settlements (BIS).
Let's look at one paragraph in particular, which I am sure will show up in bearish commentary all over the world:
"Should any or all of these series revert to their historical means, the sustainability of future global growth would also be open to question, perhaps leading to a deflationary rather than an inflationary outturn. To combine the two possibilities, the worst case scenario would be inflationary pressures, leading to a sharp tightening of policy, which in turn could precipitate a process of mean reversion in a number of markets simultaneously."
John Mauldin, 26/5 2006
---
We need a Plan B to curb the debt headwinds
An unsustainable level of private sector debt is the main factor explaining the present severe downturn,
as well as many previous downturns in history.
William White FT March 2 2010
---
Why have markets reached their exposed position? The answer is that success breeds excess.
This is the argument of a fascinating new paper from William White, economic adviser to the Bank for International Settlements.
Martin Wolf, Financial Times 24/5 2006
The longer the period of macroeconomic stability, the greater the underlying excesses in investment and borrowing are likely to become. What happened to Japan in the 1980s is an example of this danger.
High inflation did not precede the great depression of the 1930s, Japan's lost decade in the 1990s or the emerging market crises in east Asia in 1997 and 1998. What preceded all these extreme events were credit-fuelled investment booms in an era of stable inflation.
This, argued Friedrich Hayek, the Austrian economist, in the 1930s, was also the cause of the great depression.
This approach disappeared from view in the environment of the 1950s and 1960s. But, argues Mr White, it is due for reconsideration.
Is price stability enough?
Working Papers No. 205, April 2006 by William R. White
The Bank for International Settlements (BIS)
Go, go, go
Morris considers this to have been a fabulous achievement ... But Morris concedes that Volcker's success formed the seed for today's mess, because the new climate of stability left banks confident enough to crank up their leverage and risk-taking.
Trillion Dollar Meltdown:
Easy Money, High Rollers, and the Great Credit Crash, by Charles R Morris
thought-provoking for experts and a readable primer for the layperson
Review by Gillian Tett, FT, September 23 2007
Friedrich Hayek, the Austrian economist
---
---
Portentous /Portent=Omen/ time but what does it all signify?
With reference to Shakespeare's Julius Caesar
Andrew Hill, Financial Times May 23 2006
The problem with portents is working out precisely what they portend. As Cicero points out in the first act of Shakespeare's Julius Caesar, "men may construe things after their fashion": interpreting signs to mean something quite different from – or even at odds with – reality. Only in retrospect is it possible to assess which omens really counted.
Here is Charles Mackay's 19th century account, in his classic Extraordinary Popular Delusions and The Madness of Crowds, of how John Law's Mississippi investment project seized the imagination of 18th century France, boosting a whole range of "asset classes", from food to fine fabric: "For a time, while confidence lasted, an impetus was given to trade which could not fail to be beneficial. In Paris, especially, the good results were felt. Strangers flocked into the capital from every part, bent not only upon making money, but on spending it . . . New houses were built in every direction; an illusory prosperity shone over the land, and so dazzled the eyes of the whole nation that none could see the dark cloud on the horizon announcing the storm that was too rapidly approaching."
Shakespeare's frightened courtiers may not have known what it meant when they saw lions roaming the Capitol or horses eating each other. But they could be utterly confident they were not a harbinger of good news. Alas for modern market strategists, even that level of certainty is absent these days.
Extraordinary Popular Delusions and The Madness of Crowds
Omens or portents are signs encountered fortuitously that are believed to foretell the future.
Their interpretation is a form of divination.
http://en.wikipedia.org/wiki/Portent
---
Bernanke's Sophie's Choice:
"The housing market or stock market Mr. Bernanke.
You may only be able to try and save one..."
Brady Willett, May 18, 2006
---
För veckan som helhet väntas Stockholmsbörsens OMXS30-index sjunka med 0,39 procent.
Eftersom börsen redan fallit med 2,1 procent på måndagsförmiddagen till OMXS30.931,2, är den genomsnittliga förväntningen att börsen kommer att vända uppåt från denna nivå.
Alla håller dock inte med om denna genomsnittsprognos.
DN Ekonomi, publicerad 22 maj 12:51
---
The market is gripped by two scares: an inflation scare and a dollar scare.
Of the two scares, investors should worry less about US inflation and more about the dollar (though the two are obviously related).
Financial Times editorial 20/5 2006
Even after the recent declines, world stock markets remain far above their 2003 lows. The FTSE 100 index is up 73 per cent, the S&P 500 58 per cent, the Eurotop 91 per cent and the Nikkei 112 per cent. It is too soon to say the bull market is over.
The dollar is a bigger concern. While a steady and broad-based decline of the kind seen in late April/early May is both necessary and desirable, it could give way to a dollar rout and higher US interest rates. Much depends on Asian central banks, whose intervention to support fixed exchange rates frustrated a decline in the dollar in the post-dotcom bubble period, and their counterparts in oil exporting countries.
The yen "carry trade" (borrowing in yen at low interest rates and investing in higher yielding assets), which helped boost all risky assets, is fading away as Japan's economy revives.
---
In one day in October 1987 the Dow fell 500 points, equivalent to 2,500 points today.
Anyone predicting that now would be taken away in a van.
Tony Jackson, contributing editor, Financial Times 19/5 2006
So why had they kept on buying before? That at least is an easy one. What we have here is the Greater Fool Theory. This says that even though you are perfectly aware a thing is overvalued – copper, say, or shares in a fly-by-night oil explorer – you keep buying it anyway. Why? Because the thing is still going up. When the time comes, you will find a Greater Fool to take it off your hands. Until, of course, the music stops and the Greater Fool turns out to be you.
---
Paul Tucker, director of markets at the Bank of England, on Friday said the recent climate of ultra-low interest rates and low volatility might have prompted investors to become complacent about underlying risks in the financial market. In particular, an explosion in the use of structured financial products, such as credit derivatives, might have distorted market interest rates – and left investors mis-pricing risk, he said.
Financial Times 20/5 2006
---
Så var det dags för ännu en dag med kraftigt sjunkande kurser.
Det börjar kännas minst sagt tjatigt och fortfarande anges oron för dollarn och den amerikanska ränteutvecklingen som främsta orsakerna.
Pia Gripenberg, DN Ekonomi 22 maj 2006 17:00
---
Pia Gripenberg, varför faller börsen?
- Alla är jättenervösa att det här ska vara början på en längre nedgång och säljer - sedan finns det inte tillräckligt många som köper.
DN Ekonomi 22/5 2006
Placerarna på börsen har tappat fattningen
Att det runt om i världen finns samhällsekonomiska tecken som oroar placerarna har analyserats fram och tillbaka, senast förtjänstfullt i gårdagens DN av Johan Schück, så dem lämnar vi därhän i denna krönika.
Med tanke på hur bra företagen går är den kraftiga, generella börsnedgången helt obegriplig.
Pia Gripenberg DN Ekonomi 21/5 2006
---
---
Huvudfrågan kvarstår: vad händer när USA tvingas minska sitt underskott mot omvärlden, om inte överskottsländer - som Sverige - är beredda att ta ett större globalt ansvar?
Ingen centralbank, varken i USA eller någon annanstans, är villig att släppa fram en snabbt stigande inflation. Hellre låter man ekonomin gå in i en tillfällig svacka, även om den skulle övergå i recession
Johan Schück, DN Ekonomi 20/5 2006
Osäkerhet om vart världsekonomin är på väg kan ses som en övergripande förklaring till att aktiekurserna har fallit under den gångna veckan.
Världen har vant sig vid att lita på USA och accepterat att tillväxten där till stor del sker på kredit. De amerikanska underskotten har tillåtits växa, både när det gäller bytesbalansen och den federala budgeten. Hushållen där sparar inte, utan tar allt större lån i takt med att deras bostäder stiger i värde.
Följden har blivit ett växande underskott mot omvärlden, på för närvarande cirka 800 miljarder dollar - eller mer än 6 procent av USA:s BNP. När liknande situationer - fastän inte i samma enorma skala - tidigare inträffat, har detta medfört en kraftig nedgång för dollarn
En försvagning av dollarn mot andra valutor inleddes också 2002 och pågick i några år. Men under 2005 stärktes dollarn på nytt, trots att obalanserna mellan USA och övriga världen fortsatte att växa.
Tillfälligt kunde det verka som om alla varningar varit obefogade. USA hade inga problem att finansiera sina underskott till låga räntor och fortsatte som draglok för världsekonomin. Andra länder, där man inte hade lika stark efterfrågan, gavs goda exportmöjligheter och kunde befästa stora överskott i sina bytesbalanser.
Under de senaste åren har dock den största ökningen av överskotten inte kommit i Kina, utan i de tio främsta oljeexporterande länderna. Denna grupp - bestående av Algeriet, Förenade arabemiraten, Kuwait, Mexiko, Nigeria, Norge, Ryssland, Saudiarabien och Venezuela - svarar nu för mer än hälften av världens samlade bytesbalansöverskott.
Federal Reserve, med sin nye chef Ben Bernanke, står inför svåra val. Men ett rimligt tips är att ingen centralbank, varken i USA eller någon annanstans, är villig att släppa fram en snabbt stigande inflation. Hellre låter man ekonomin gå in i en tillfällig svacka, även om den skulle övergå i recession.
För USA beror en stor del av underskottet mot omvärlden på att exporten är betydligt mindre än importen.
Vad som skymtar är en motsvarighet till Plaza-överenskommelsen 1985, där USA, Japan och de viktigaste EU-länderna gjorde upp om att minska den tidens globala obalanser.
Riskerna, som tidigare inte har tagits på fullt allvar, ger nu upphov till överdriven försiktighet. Omsvängningen kan bli kännbar för många inblandade, alltifrån spekulanter till pensionssparare.
Huvudfrågan kvarstår: vad händer när USA tvingas minska sitt underskott mot omvärlden, om inte överskottsländer - som Sverige - är beredda att ta ett större globalt ansvar?
Rolf Englund:
Stagflationen från det hemska 70-talet kan komma igen
---
Martin Guri, analyschef på SEB, är inte orolig.
Börsen slutar på plus i år och företagen klarar eventuella räntehöjningar med glans
Ur Affärsvärlden 8/6 2006
En myt är att det ska finnas en koppling mellan dollarkursen och börskursen. Man brukar ju säga att en svagare dollar ger en svagare börs. Men det är inte heller sant. Det finns ingen statistiskt signifikant koppling.
---
Utifrån det vi vet i dag anser Mats Guldbrand att det inte finns någon anledning till oro.
- Vi ställer oss frågan: Har världen ändrat sig eller är det bara bilden av världen som har förändrats. Jag vill tro på den senare.
Mats Guldbrand, sedan 15 år aktiechef på AMF Pension som tillsammans med dotterbolaget AMF Fonder förvaltar motsvarande drygt 281 miljarder.
Ungefär 150 miljarder av tillgångarna är placerade på aktiemarknaden.
DN 19/5 2006
---
Konjunkturinstitutets chef Ingemar Hansson är än så länge inte oroad över den senaste veckans börsras eftersom drivkrafterna bakom tillväxten nu är så starka.
- Det finns inga fundamentala nyheter som motiverar 10 procent lägre börskurser, och jag tror heller inte på ett fortsatt börsras, sade KI-chefen i ett anförande på torsdagen, och tillade att det inte är något onormalt att det går upp och ned lite
Han ser ingen risk för överhettning på bostadsmarknaden, utan prisuppgången är en anpassning till en långsiktig jämviktsnivå.
Ingemar Hansson DN 18/5 2006
Full text
---
Med dagens nedgång är Stockholmsbörsen nere på minus 15 procent sedan den 3 april, startdatumet för raset.
"Jag har ingen bra förklaring till rörelserna på börsen. Det är mer skakigt än jag trodde det skulle vara"
Peter Malmqvist, DI 8/6 2006
---
Börsen i Stockholm föll tungt i går.
Värden för 149 miljarder raderades ut. Sedan nedgången startade i fredags har börsen tappat drygt 300 miljarder kronor i värde. Börsfallet var brett, alla branschindex backade. Även börserna i London, Paris och Frankfurt rasade.
N24 18 maj 2006
---
Ingen fara för ras
Peter Malmqvist, DI 2006-05-17
Stockholmsbörsen är nere 9 procent sedan början av april. Enligt Nordnets analyschef Peter Malmqvist är det en gränsnivå för att klassa in som korrektion. Skulle börsen falla över 15 procent finns det anledning att prata om ökad osäkerhet och rädsla. Sedan 2 april, då den neråtgående trenden började, är Stockholmsbörsen ned 9 procent. I april i fjol och i juni för två år sedan var nedgången i samma storleksordning, minus 10 procent. Skulle börsen falla ytterligare blir det alltså ett dystert rekord för de senaste tre åren.
"Skulle börsen falla över 15 procent kan man prata om ett nytt mönster, med en rädsla som inte funnits tidigare", säger Peter Malmqvist.
Men Peter Malmqvist tror inte att det inträffar.
"När jag går igenom nyckeltal som börsvärderingar, vinstutveckling, inflation och räntor kan jag inte hitta något som skulle motivera ett ras. Jag tror börsen stiger cirka 5 procent i år", säger Peter Malmqvist.
---
Ingen tycks tro att det hittills inträffade utgör början på något stort börsras
Johan Schück, DN 15/5 2006
Dollarns nedgång, som visserligen bröts på måndagen, är sedan länge väntad. Långsiktigt måste dollarkursen ner, om USA ska kunna minska sitt väldiga underskott mot omvärlden. Men anpassningen har länge fördröjts av den starka amerikanska konjunkturen, som gjort att kapital har strömmat in från övriga världen.
---
IMF acts to avoid markets meltdown
Heather Stewart, economics correspondent, The Observer, May 14, 2006
The International Monetary Fund is in behind-the-scenes talks with the US, China and other major powers to arrange a series of top-level meetings about tackling imbalances in the global economy, as the dollar sell-off reverberates through financial markets.
At the IMF's Spring Meetings last month, its managing director, Rodrigo de Rato, was handed new responsibilities to carry out 'multilateral surveillance', assembling groups of relevant countries to discuss critical issues in the global economy. With the long-predicted dollar bear market sending ripples throughout the world, the IMF is keen to use its powers as soon as possible.
In The Stock Market's DaVinci Code by Jonathan Moreland, the topic of
the Plunge Protection Team
is once again discussed by a somewhat mainstream financial writer
Tim Iacono, 14/3 2006
---
The US dollar suffered a severe sell-off on Friday, taking it to its weakest level against a trade-weighted basket of currencies since October 1997, in a tumble that helped to trigger falls across world equity markets.
The dollar ended at $1.293 to the euro
Financial Times May 12 2006
---
The bear market started yesterday
WE SUGGEST: Those convinced should act accordingly – shifting to yen cash
Lombard Street Research (Tim Congdon), Friday, 12 May 2006 17:55:37
---
Peter Malmqvist bedömer att den nuvarande rekylen fortsätter cirka två veckor till.
Dagens Industri 12/5 2006
Börsen backade kraftigt med omkring 2,7 procent på fredagen. Den senaste månaden har det varit ett par rejäla hack i kurvan och en nedgång totalt på 6-7 procent. -Men jag tror inte att det här är början på det stora raset, säger analyschefen Peter Malmqvist.
Efter flera års kraftiga uppgångar ökar nu oron för en större börsnedgång. Frossan kan orsaka stora rörelser - den 28 april föll börsen med hela 1,9 procent, och även tidigare i april var det kraftiga nedgångar. Med gårdagens fall på 1,6 har börsen backat uppemot 6 procent sedan den 14 april.
Enligt Peter Malmqvist, analyschef på Nordnet, finns det dock inget som pekar på att det skulle vara någon större nedgång i sikte.
- Däremot kan vi konstatera att vi haft en väldigt stark uppgångsfas det senaste året, i accelererande tempo, det har gått bättre och bättre och någonstans blir det en andhämntningspaus, säger han.
Publicerad 12 maj 17:38
---
In March 1999 as the stock market was in the last phase of a massive speculative bubble, James Glassman and Kevin Hassett of the American Enterprise Institute wrote a provocative column in the Wall Street Journal entitled "Stock prices are still far too low." The arguments in this piece were then reprised in a voluminous article in the September 1999 issue of the Atlantic Monthly and entitled "Dow 36,000." Finally in November 2000 as the stock market was beginning its precipitous descent, they unveiled their book "Dow 36,000: The New Strategy for Profiting From the Coming Rise in the Stock Market."
---
As two distinguished financial economists, John Campbell of Harvard and Robert Shiller of Yale, have shown,
returns demonstrate "negative serial correlation".*
They revert to average valuations.
Martin Wolf, Financial Times 22/3 2006
Valuations are not as crazy as they were in 2000. But they still remain very high.
In the case of the US market, two similar measures of fundamental value – "q", or the valuation ratio (the ratio of stock market value to the replacement cost of corporate capital), and the cyclically adjusted ratio of prices to earnings – continue to show exceptionally high values by historical standards.
Real returns have recently been extraordinarily high in the following stock markets: Australia, Belgium, Canada, France, Germany, Italy, Japan, the Netherlands, Spain, Sweden, Switzerland, the UK and the US.
The fact that every asset price is high strongly suggests that the aggressive post-bubble monetary expansion explains today's strong equity prices. Safe bonds, risky bonds, equities, gold, property and commodities are all expensive by historical standards. It is as if markets are expecting both inflation and deflation. That is not as irrational as it may seem. When asset prices are out of line with incomes, one of two things is likely: asset prices may collapse (which is deflationary) or incomes may soar (which means inflation). Markets are betting on both extremes.
---
Contrarians At The Gate
One of the challenges of investing is when to move with the crowd and when to move against it. While it's taken as common wisdom that contrarian investing (placing trades that are on the opposite side of the "crowd") is a profitable strategy in the long run, the historical evidence suggests that a persistently contrarian approach - jumping on the contrarian bandwagon, so to speak - isn't always optimal.
John P. Hussman, Ph.D. January 23, 2006
The January issue of Science includes an article on bounded rationality in economic games, and has interesting implications about contrary investing. Economists Colin Camerer and Ernst Fehr explain that "strategies are complements if agents have an incentive to match the strategies of other players. Strategies are substitutes if agents have an incentive to do the opposite of what the other players are doing." (For some reason, we economists like to call normal people "agents"... we tend to call agents "spies").
---
Selling panic closes Tokyo market
Tokyo's stock exchange closed early for the first time ever on Wednesday, as market bosses attempted to head-off a meltdown after a frantic day's trading.
BBC 18/1 2006
---
Globaliseringen får mycket svårare konsekvenser än vad nästan alla ekonomer tror,
hävdar professorerna Mats Persson och Marian Radetzki
Johan Schück, DN 8/1 2006
En omvälvande förändring pågår i världen, utan att de akademiska ekonomerna inser det.
Det nya är att låglöneländerna Kina och Indien, med sina stora befolkningar, får tillträde till den globala ekonomin på alla nivåer. De nöjer sig inte längre med att ta över enkla uppgifter, utan konkurrerar snart lika mycket på marknaden för högutbildade.
Jobb har slagits ut även tidigare, till exempel då textilindustrin och skeppsvarven flyttade utomlands. Men då gällde det en strukturomvandling där enskilda branscher kunde ersättas av andra, med mer kvalificerat innehåll.
Att sänka fastställda löner är dock inte det enklaste, vare sig i Sverige eller andra länder. Men det viktigaste är inte de nominella lönerna, utan att reallönerna justeras ner, anser Mats Persson och Marian Radetzki. De tror inte att det räcker med de ofta upprepade recepten om ökad utbildning, mer forskning och utveckling eller förbättrat företagarklimat.
"Från att ha varit ett teorem i forskarkurserna i utrikeshandelsteori har plötsligt faktorprisutjämning, och ett fall i reallönerna i västerlandet, blivit en högst konkret realitet. Och då väljer de flesta nationalekonomer att blunda för teoremet, och/eller att krångla till ytterligare, så att lönenivån inte nödvändigtvis behöver falla - och sedan slår de sig till ro. Varpå sjukskrivningarna, skatterna och riksbankspolitiken fortsätter att dominera våra ledande debattfora och tankesmedjor, också inom den nationalekonomiska professionen."
The factor-price equalization theorem
The fourth major theorem that arises out of the Heckscher-Ohlin model is called the factor-price equalization theorem.
Simply stated the theorem says that when the prices of the output goods are equalized between countries, as countries move to free trade, then the prices of the factors (capital and labor) will also be equalized between countries.
http://internationalecon.com/v1.0/ch60/60c170.htmlhttp://internationalecon.com/v1.0/ch60/60c170.html
---
Chapter 7. SAMUELSON'S FACTOR PRICE EQUALIZATION THEOREM
Click here
---
Nästan alla ekonomer underskattar effekterna av globaliseringen, hävdade professorerna Mats Persson och Marian Radetzki i måndagens DN. Deras budskap till kollegerna var tydligt: i stället för att intressera sig för sjukskrivningar, a-kassor och styrräntor borde de oroa sig för vad som händer i den globala ekonomin.
Det vore välgörande om någon eller några tog upp den handske som Radetzki och Persson kastat. Litet talar nämligen för att deras förutsägelser är korrekta.
DN-ledare 14/1 2006
Enligt Persson och Radetzki väntar svåra tider för dem som arbetar i västvärlden, inklusive Sverige, som en följd av att "hundratals miljoner människor i Kina och Indien på kort tid blir tillgängliga för världsmarknaden". I konkurrensen på den globala arbetsmarknaden kan svenska löntagare tvingas välja mellan lägre reallöner och arbetslöshet. Så lyder i sammanfattning domedagsprofetian, som utvecklas i en kommande artikel i tidskriften Ekonomisk Debatt
Ur Marian Radetzkis bok "Klarspråk om arbetslöshet" (SNS Förlag, 1996)
Klicka här
The causes of Germany's fundamental economic weakness are still there. There are several conventional explanations, none of which is fully convincing.
The consensus among central bankers is that failure to reform labour markets has depressed the trend growth rate, which may now be as little as 1 per cent a year. Switzerland has been a model of a deregulated, low-tax economy. Yet its average growth rate since 1991 has been 1.1 per cent.
Wolfgang Munchau, Financial Times, January 16 2006
»Mycket av det som många med mig trodde var välfärdsstatens kris på 1990-talet visade sig vara något som mer hängde ihop med felvärderad växelkurs och dålig makroregim än med grundläggande strukturfel.«
Anders Borg, citerad i Ordfront, 27/9 2005
---
"Foreseeing change in the conventional basis of valuation" is the cat's meow of professional investment management.
This is not a new game. Indeed, none other than John Maynard Keynes described the game beautifully in Chapter 12 of the General Theory:
Paul McCulley, Pimco, January 2006
"It might have been supposed that competition between expert professionals, possessing judgment and knowledge beyond that of the average private investors, would correct the vagaries of the ignorant individual left to himself. It happens, however, that the energies and skill of the professional investor and speculator are mainly occupied otherwise. For most of these persons are, in fact, largely concerned, not with making superior long-term forecasts of the probable yield of an investment over its whole life, but with foreseeing change in the conventional basis of valuation a short time ahead of the general public. They are concerned, not with what an investment is really worth to a man who buys it 'for keeps,' but with what the market will value it at, under the influence of mass psychology, three months or a year hence. Moreover, this behaviour is not the outcome of a wrong-headed propensity. It is an inevitable result of an investment market organised along the lines described. For it is not sensible to pay 25 for an investment of which you believe the prospective yield to justify a value of 30, if you also believe that the market will value it at 20 three months hence."
---
20 Triggers for the Coming Collapse
There's an 86% probability that America will collapse into a major economic recession
Richard Rainwater is No. 112 on the Forbes 400 list of America's richest, worth $2.3 billion made in oil and real estate
Fox News 10/1 2006
---
What could go wrong and, more important, whether the risks of its doing so are adequately priced. They are not.
On a cyclically adjusted basis, the US stock market is as highly valued as in any period of the past 120 years, except the late 1920s and the late 1990s.
Martin Wolf 3/1 2006
The biggest non-economic risks are those relating to security, as Harvard's Ken Rogoff pointed out in yesterday's FT.
According to the US Energy Information Administration, the total energy supplied by oil, natural gas and coal will need to grow by about three-fifths between 2002 and 2025.
The economic risks are most evident in today's "imbalances".
The principal domestic counterpart to the huge US current account deficit is the financial deficit of US households, currently running at an all-time record of more than 7 per cent of gross domestic product.
As Wynne Godley, the Cambridge economist, has pointed out, with such a financial deficit, the indebtedness of the household sector must rise continuously. And indeed it has, from 92 per cent of disposable income in the first quarter of 1998 to 126 per cent in the third quarter of last year. That rise in indebtedness has pushed household debt services payments to an all-time high of 14 per cent of disposable incomes, despite today's modest interest rates.
What would happen if house prices ceased to rise or interest rates increased? Households would cut back on their borrowing. If they did, how would a sharp US slowdown be avoided?
The big question, however, is whether these risks are correctly priced. The reason to believe they might not be is our natural tendency to ignore the likelihood of low probability events, however calamitous. Nassim Taleb made this point in his brilliant book, Fooled by Randomness*. In a "Taleb distribution", catastrophic loss follows a long history of small gains. Lulled into a sense of security, people greatly overestimate the probability of winning in the long run.
After such a long period of stable growth and low inflation, precisely this mistake seems evident in almost every asset market.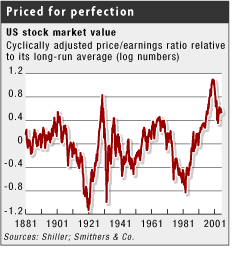 On a cyclically adjusted basis, the US stock market is as highly valued as in any period of the past 120 years, except the late 1920s and the late 1990s
I am neither clever enough nor foolhardy enough to make forecasts. It may be more likely than not that this year will be very like 2005.
But it may well not be.
Nassim Taleb, Fooled by Randomness
Wynne Godley works for Levy Economics Institute
The unaffordability of housing in the early 1980's led to an epic collapse in the housing industry. ... And ... was one of the main factors in the worst economic slump since the Great Depression, which brought the unemployment rate to a peak of 10.8 percent at the end of 1982.
Paul Krugman New York Times January 2, 2006
cit at economistsview
---
What if Pharaoh had beheaded Joseph for daring to suggest higher taxes during the fat harvest years so people would not starve during the lean ones? Instead, Egypt's leader cast his lot with the world's first recorded business cycle theorist and the rest is, well, history.
But are our leaders today preparing for the inevitable downside of the cycle? I wonder.
Kenneth Rogoff, Financial Times, January 2 2006
The writer is professor of economics at Harvard University and former chief economist at the International Monetary Fund
It does not take a prophet to think of things that might go wrong.
The number one risk to global growth over the next few years has to be the global security situation, particularly a terrorist incident involving weapons of mass destruction.
As good as the economic fundamentals are, it is easy to find more down-to-earth vulnerabilities. Top of the list has to be global housing prices – which are not actually all that close to earth any more. With US prices up 60 per cent since 2000 and even higher price inflation in many other countries it is not hard to imagine a collapse, especially in frenzied regional markets such as California – which, after all, still has a larger economy than China's.
Speaking of China, the leadership there still faces a delicate social, economic and political balancing act to sustain the country's break-neck development pace.
Then there is energy. Yes, the run-up in oil prices over the past two years seems to have had a relatively modest effect on global growth.
This was actually in line with most academic assessments, which suggest that at least half the perceived damage from pre-1985 oil shocks was due to monetary policy mistakes.
Lastly, the global financial system, while fundamentally a source of strength, is also a source of weakness. The explosion of unregulated hedge funds and the widespread use of derivatives...
Perhaps that complacency is the greatest risk of all.