Rolf Englund IntCom internetional
---
Index - News - 1992 - EMU - Cataclysm - Economics - Wall Street - US Dollar
---
Baltikum
---
Baltikum ger hopp till Europa
I går höll tankesmedjan Fores ett seminarium som ställde frågan om Baltikum har lyckats spara sig ur krisen.
Det korta svaret är ja.
SvD ledarsida, Ivar Arpi 23 april 2013
---
Why the Baltic states are no model
Are its policies a model for others? In a word, no.
Martin Wolf, Financial Times, April 30, 2013
---
Under Greklandskrisen har Anders Borg konsekvent hävdat att Sverige inte har någon anledning att ställa upp för Grekland och att det är bättre om IMF får hjälpa till. I linje med detta säger Borg att "svenska skattebetalare" inte har någon anledning att vara med och betala till en europeisk monetär fond, utan det är något "euroländerna själva måste hantera".
Men sanningen är ju att Sverige och svenska skattebetalare under IMF-flagg ställer upp med avsevärda belopp till nödlidande europeiska länder. EU-kandidaten Island har ett lån på 6,5 miljarder att plocka ut, medan EU-medlemmen Lettland får låna upp till 10 miljarder kronor av oss.
Expressenledare, signerad Eric Erfors, 10 mars 2010
---
Drygt 26 miljarder kronor rann ut ur Swedbank, SEB och Nordea kreditförluster i Baltikum.
52 miljarder kronor blev bankernas totala nota för kreditförluster under 2009.
DI 2010-02-10
---
desperate
"Countries like Estonia and Latvia were once desperate to get in,"
said Alf Vanags, director of the Baltic International Center for Economic Policy Studies in Riga.
"The euro is not looking so attractive now."
International Herald Tribune 12/2 2010
Latvia has been on track to adopt the euro in 2014, as has Lithuania, with Estonia eyeing its inclusion by 2011.
These governments have reason to fear that, like Athens, they will be caught in a vise: unable to pay for expensive social programs demanded by citizens while staying within the euro zone's debt limits.
---
Forex lending represents around 91 per cent of the total in Latvia, 87 per cent in Estonia and 72 per cent in Lithuania
and over 50 per cent in Hungary, Romania and Bulgaria
a senior official at the European Bank for Reconstruction and Development FT 19/1 2010
---
Despite the region's small size, the intensifying crisis in the Baltics cannot be treated as a freakish local squall of little concern to outsiders.
Bank failures or plunging currencies in the three Baltic nations – Latvia, Lithuania and Estonia – could threaten the fragile prospect of recovery in the rest of Europe.
These countries also sit on one of the world's most sensitive political fault-lines.
They are the European Union's frontier states, bordering Russia.
Gideon Rachman, Financial Times, August 3 2009
Latvia's paymasters – the EU and the IMF – seem divided. The IMF has been open to the idea of scrapping the peg. Brussels is firmly against, fearing that it would trigger currency instability, bank failures and competitive devaluations across the EU.
The EU authorities in Brussels are overseeing Latvia's recovery efforts with an almost imperial authority. Europe's fear of the destabilising effects of devaluation is completely understandable. But, in an effort to preserve the impression of stability in the Baltics, the defenders of the peg risk creating the conditions for another almighty economic thunderclap later this year.
Efter en utvidgning kommer den Europeiska Unionens östgräns mot Ryssland gå tvärs igenom staden Narva i Estland
och när Turkiet blir medlem kommer Unionen att gränsa till Syrien, Irak, Iran, Armenien och Georgien.
Rolf Englund, Nya Wermlands-Tidningen 2000-12-08
---
Veckans Affärer portal Baltikum
---
Swedbank drabbades under andra kvartalet av kreditförluster på 6,7 miljarder kronor.
"Marknaden hade räknat med en betydligt lägre siffra, 6,1 miljarder kronor".
Rörelseresultatet förlust på 1,8 miljarder kronor, mot förväntade minus 1,3.
DI 2009-07-17
---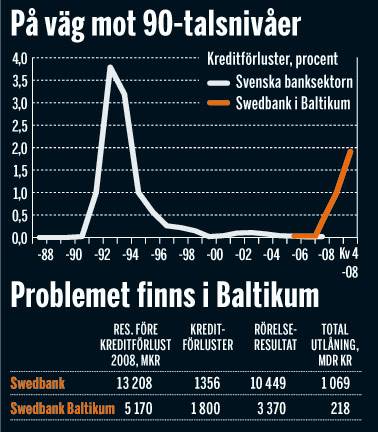 Risken för nyemission i Swedbank är inte akut men helt beroende av hur snabb
och djup nedgången i Baltikum blir,
konstaterar VA Börs 2009-03-12
---
Poland may avoid a recession this year,
while countries that have pegged their currencies to the euro are in for a much tougher 2009.
Floating currencies help states stay above water
FT July 13 2009
In Latvia, where the government is maintaining the lat's peg to the euro despite the collapse of its economy, the contraction has been more dramatic - with gross domestic product shrinking by 18 per cent in the first quarter. The governments of Latvia, Lithuania and Estonia have refused to abandon their currency boards, plunging them into the deepest recessions in the European Union.
---
Kronan är en dyrbar lyx.
Omvärlden backar upp Sverige och Sverige backar upp Baltikum.
Även om Lettland fortsätter sin svältkur kommer förlusterna att bli mycket stora.
Barbro Hedvall, Signerat DN 2009-06-12
---
De nordiska bankerna har tillsammans en utlåning på 450 miljarder kronor i Baltikum.
Störst utlåning har Swedbank och SEB med 182 miljarder kronor respektive 139 miljarder kronor
DN 2008-07-03
---
Baltstaterna som knutit sina valutor till Euron, vilket medfört extrem inflation, överbelåning av såväl hushåll som företag samt en raserad konkurrenskraft.

Nu har dessa länder i princip bara två val, att dö sotdöden med höga inhemska kostnader och bedrövlig konkurrenskraft eller att devalvera, vilket medför att en stor andel av befolkningen och företagen kommer att gå i konkurs.

Hade man inte hållit på med det politiska projektet euron så hade ländernas ekonomier inte behövt genomlida det stålbad som nu väntar, valutan hade korrigerats för att dämpa uppgången och för att mildra fallet.
Mats Qviberg, Newsmill 2009-05-19
Björn Wahlroos uttryckte det elegant i Affärsvärlden: "Det är fullständigt absurt att människor tror att det är till nytta för någon att upprätthålla en övervärderad valuta. Det är ju det säkraste sättet att strypa all näringsverksamhet i de länderna, de tappar totalt sin konkurrenskraft mot utlandet i och med att den inhemska kostnadsnivån är högre än den borde vara."
---
Bevare oss för euron
Hopplös är situationen i de baltiska länderna som alla
knutit sina valutor till euron.
Tomas Fischer, Fokus 19/2 2009
---
Kronan kollapsar
Euron steg till 11:79, drygt 40 öre högre.
Enligt analytiker är det sannolikt gårdagens Moody´s-rapport om
det svenska banksystemet som pressar den svenska valutan.
DI 2009-03-06
---
Eastern crisis that could wreck the eurozone
The crisis started in the US, but Europe is where it might turn into catastrophe
Wolfgang Münchau, Financial Times February 22 2009
---
Eastern European crisis may put us all in the goulash
Swedish banks have lent $90 billion - nearly one fifth of Sweden's GDP - to "high-risk" countries
The Times February 19, 2009
---
Swedbank
Den ekonomiska krisen i Baltikum väntas öka kreditförlusterna
men en devalvering skulle ge den ökningen en turboeffekt.
Verksamheten i Baltikum och i Ukraina har ett bokfört värde på runt 15 miljarder kronor i balansräkningen och eventuella nedskrivningar görs mot det egna kapitalet.
---
Över 90 procent av alla pengar i Estland som lånats ut har skett i euro. I Lettland och Litauen är situationen likartad.
Skulle en devalvering ske blir lånen väldigt mycket dyrare för kunderna, och betydligt svårare att betala tillbaka
SvD Näringsliv, reporter Johanna Petersson, 23 oktober 2008
I Estland har varannan kund sitt bolån hos Swedbank och 85 procent av banksystemet är svenskt. I Lettland och Litauen har Nordea, SEB och Swedbank också en stor dominans.
Ordet devalvering får inte ens sägas på telefon av bankanställda i Lettland - där har säkerhetspolisen lovat att utreda vilka som ligger bakom finanskrisrykten.
De baltiska staterna riskerar att bli finanskrisens nästa offer. Med enorma underskott i bytesbalansen, ett beroende av utländska lån och en skälvande fastighetsmarknad, hotar nu statskonkurs.
Man kan säga att det som hänt i Island i form av finansiell krasch redan har hänt i Estland och Lettland
DN 2008-10-21
I dagarna pekade Internationella valutafondens chef, Dominique Strauss-Kahn, ut länderna i Baltikum som nästa möjliga offer för finanskrisen. Han menade att flera banker i länderna har en ökad exponering mot krisande fastighetsmarknader och att deras beroende av internationella krediter liknar det som de nu nationaliserade isländska bankerna har.
---
I normala fall skulle de baltiska valutorna tappa i värde.
Men eftersom länderna har ambitioner att gå med i det europeiska valutasamarbetet har man fasta växelkurser
Patricia Hedelius, DN 2008-10-21
ETT ALTERNATIV FÖR Estland och Lettland som har de största problemen är att överge sina fasta växelkurser och devalvera. Men det skulle skapa ett gigantiskt skuldberg eftersom länderna har stora lån i utländska valutor.

Även företag och hushåll har lån i andra valutor än den inhemska.
Kommentar av Rolf Englund:
Fast växelkurs och utlandslån till kraschande fastighetsmarknad känner vi igen från Sverige 1992
De svenska bankerna kör tidigt 90-tal i repris i Baltikum. Lärde dom sig ingenting?
---
RGE Monitor's Newsletter
2008-10-22
All three Baltics (Estonia, Latvia, and Lithuania) boomed over the last seven years and posted double-digit growth rates at their peak, helped by cheap credit from Scandinavian parent banks and EU membership in 2004. Now these economies are in the midst of a sharp slowdown, with Latvia and Estonia officially in recession.
There is no question that the Baltics are in for hard times. In the context of the global credit crisis, the risk is that foreign capital inflows could dry up and lead to an even sharper slowdown that could infect the financial sector. But there are some factors that suggest the sharp slowdown might not evolve into a full-fledged, Iceland-level crisis.

One, external deficits in the Baltics are funded to a large extent by inflows from Swedish parent banks, and sharply cutting off credit would hurt these banks.

Two, substantial foreign ownership of banking assets limits the governments' contingent liabilities, as Swedish parent banks would be expected to provide support to their Baltic subsidiaries if they get into trouble.

Three, the Baltics' sharp slowdowns have led to speculation that devaluations (they have exchange rates pegs to the euro) could be in the offing. While devaluation cannot be completely ruled out, such fears may be overblown as these countries tend to have shallow financial markets, relative little hot capital, and successfully defended against speculative attacks earlier this year.
---
Swedish krona falls on Baltic exposure
Financial Times, October 16 2008
Traders said talk that several large funds had unwound their exposure to Sweden exacerbated the move, while a greater than expected rise in Swedish unemployment also weighed on the currency.
David Deddouche, at Société Générale, said the likely reason for the krona's fall from grace was concern over the exposure of Swedish banks to the Baltic states.
---
De nordiska bankerna har tillsammans en utlåning på 450 miljarder kronor i Baltikum.
Störst utlåning har Swedbank och SEB med 182 miljarder kronor respektive 139 miljarder kronor
DN 2008-07-03
---